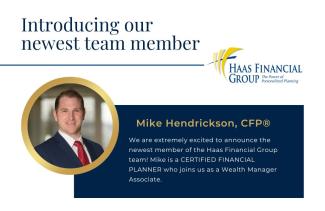 Introducing Our Newest Team Member, Mike Hendrickson
Adam, Devon, Holly and I are extremely excited to announce the newest member of the Haas Financial Group team, Mike Hendrickson! Mike is a CERTIFIED FINANCIAL PLANNER who joins us as a Wealth Manager Associate after advising with several other firms over his last 18 years in financial services. He brings a lot of experience, enthusiasm and expertise to our team and we are grateful for the opportunity to work with him, and for him to have the pleasure of working with you.
A little background on Mike:
Mike has a real commitment to developing deeply personal relationships with clients, which is one of our shared values. After almost two decades of experience in financial services, he's served clients in multiple capacities and roles. He has a natural charisma about him, he loves interacting with others and that fits what we value most – great communication! As you know, we place a strong emphasis on education and being great financial planning tacticians, but we also really appreciate how important the human side of our relationships are. Mike shares that belief and passion, to help navigate the emotions we all deal with and to have the deeper conversations that are necessary to understand what matters most to you in life. When you meet Mike, you'll find him to be friendly and conversational, enthusiastic and quick-witted. He's smart, empathetic and thoughtful as well, all things I feel are important to an advising relationship. When asked how best to describe Mike, his references told me "He's reliable, loyal, and fun to be around." What more could we ask for?
Husband to Meagan, Dad to Andrew, Kieran and baby Taylor (only 2.5 weeks old!), you can tell he takes pride in being a family-man and enjoys volunteering his time with the kid's activities. He'll fit right in!
Learn more about Mike here: Mike's Bio
What this means for the team:
While we plan to ease him into the Haas Financial Group family (sleep is at a premium with baby Taylor in the Hendrickson household), Mike will play an immediate role in our financial planning work, our ongoing asset allocation reviews, and with our annual client service model. We operate as a team and welcome Mike's ability to create some capacity for Adam and me as we continue to adapt to the ongoing needs of our growing business. We're excited to introduce him to you in the coming months, and trust you'll enjoy getting to know him as he becomes a familiar face and name going forward. 
Join me in welcoming, Mike! 
Mike can be reached directly here: mhendrickson@haasfinancialgroup.com  
Tracking # T004553