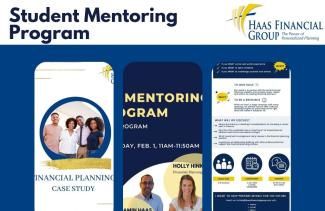 HFG Student Mentoring Program
One of our core principles at HFG is education and this spring we were able to give back by holding our first Student Mentorship Program! This idea has been in the making since late 2019/early 2020 and has finally been brought to life. With a lot of team collaboration, we were able to come up with a 4–5-week program that covered topics on financial planning, the direction the finance industry is heading in, investment management and its role within financial planning, and our own personal insights about what lead us to choose this career path.
We're very fortunate to have a relationship with Kutztown University's business department to help promote our program and in turn, we had a small group of Personal Finance majors participate. They were thoughtful, intelligent, and wanted to learn about any real-life experiences we could provide for them. Being in their shoes not so long ago, it reminds me of the uncertainty soon-to-be graduates face when searching for their first job out of school. We were able to educate them on different career paths that are available to them, introduce the newest CFP® topic about the Psychology of Financial Planning and the importance of understanding the human side of finance, and how you can become a "financial head coach" by bringing different professionals together so a plan can (hopefully!) be seamlessly executed.
At the conclusion of the program, it reminded us of one of the reasons why we wanted to start it in the first place: to share real-life experiences that simply can't be taught in the classroom. Academia lays the foundation of knowledge that people can apply to their job. However, it rarely emulates a hands-on situation for students to understand WHY they need to know this information and HOW to apply it to a real-life situation. Tailoring the program to have an emphasis on how to communicate with clients in meetings is something we thought would be valuable information that they probably haven't learned or experienced thus far. We acknowledge that no one can be taught how to be empathetic or innately know what follow up question to ask next, because this comes naturally with experience. One of our objectives was simply getting students to start thinking about the communication skills that go hand-in-hand with the technical side of being a financial planner.
I have always been a firm believer that you should share knowledge with others. Not everyone learns the same way and I love finding new ways to explain a concept for people to grasp and comprehend. Being able to share my experience with students was really rewarding as I understand how daunting it can be trying to figure out which job is the "right job" to start off your career. I hope the students feel more informed as they continue applying to jobs and can spot which ones don't align with their values (commission-based world vs advice-based world). Even though I'm not far removed from being in college, they reminded me how quickly time passes and how it's such an exciting time of their lives! Helping teach this program reminded me how I have a lot more to learn in my professional life (and personal!) and I'm excited to continually use that knowledge to educate others.
Our hope is to offer this program once a year so that we can continue educating future financial planners and I'm most looking forward to seeing the program grow over time! If you'd like to learn more about the specifics of the program and what content was covered, click the link below.
https://www.haasfinancialgroup.com/studentmentoringprogram
By: Holly Hinkle, Financial Planning Associate
Tracking # T003690