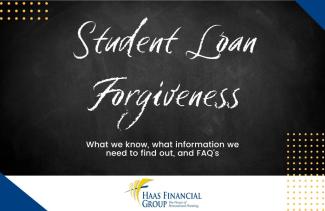 President Biden's recent announcement about mass student loan forgiveness has been all over the headlines.  Education funding has been a topic clients look for guidance on with their kids and grandchildren, so we wanted to compile facts on what we currently know and how it could potentially impact you and your loved ones.
What we know:
The final pause on federal student loan payments ends on December 31, 2022
Up to $10k forgiveness on federal loans

This includes undergrad, grad, and Parent Plus loans
Current college students can be eligible if their loans were issued before July 1st, 2022

Up to an additional $10k of forgiveness (total of $20k) if the recipient also received a Pell Grant in college
Taxable income must be below $125k for single tax filers to be eligible for loan forgiveness

Under $250k if married filing jointly

There will be a simple application to fill out to apply for forgiveness if the U.S. Department of Education doesn't have your income data

Applications will be available by early October and it's recommended to complete it before November 15th to ensure the relief happens before the payment pause expires.  The relief application will expire December 31, 2023
Once the application is submitted, borrowers should see debt relief within 4-6 weeks

Updates to Income-Driven Repayment (IDR) Plans - Most common for people

New payment plans that will require borrowers to pay no more than 5% of discretionary income to undergraduate student loans
Allows forgiveness of remaining balance of $12k or less after 10 years of payments
There will be 0% interest as long as montly payments are made
What information we need to find out:
IF the proposed IDR plan finalizes by November 1st of this year, the updates will go into effect on July 1, 2023.  But as of now, there is no official confirmed date.
FAQ's:
What is a Pell Grant?

The Pell Grant is a federal scholarship awarded to low-income students and will be given if you meet certain criteria after filling out the FASFA form.

What is the PSLF Program?

The Public Service Loan Forgiveness (PSLF) program forgives the remaining balance on your federal student loans after 120 payments working full-time for federal, state, Tribal, or local government; military; or a qualifying non-profit organization.

What are IDR Plans?

An income-driven repayment (IDR) plan sets your monthly student loan payment at an amount that is intended to be affordable based on your income, family size, and the state you live in.
This type of repayment plan has an application process and attracts people who have high, federal student loans compared to their income.  The updated calculation for new IDR plans is noted below:

New IDR Plan Discretionary Income = Adjusted Gross Income - 225% x poverty line

NOTE: discretionary income for undergrad loans is 5% and 10% for grad loans

This means a single person who makes $47k/year with undergrad loans could pay as little as $68/month for student loans under an IDR plan.

What can I go to learn more about this?

Go to Federal Student Aid's website for more information about this topic and for updates
We will also give updates on any major developments about this topic as they become known
This information is not intended to be a substitute for individualized tax or legal advice.  We suggest you discuss your specific situation with a qualified tax or legal advisor.
Tracking # T004492