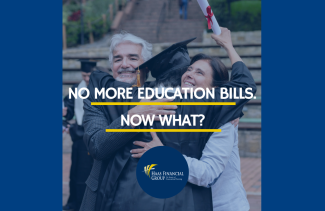 No More Education Bills. Now What?
If you're at all like some our pre-retired clients, you're probably just now finally starting to take some deep breaths. You've clawed your way out for under piles and piles of tuition bills.  You don't need to keep the refrigerator stocked for the 22 year old who literally eats you out of house and home. The kids are starting careers, are no longer on the family payroll to cover cell phone bills and car insurance, and aren't asking for lunch money anymore. 
Congratulations! You've earned the right to relax for a minute or two. Yes, that's right. You only have a short period of time to decompress and ignore the next looming question that requires immediate attention. "Now what?!" 
It's finally time to focus on YOU and YOUR plans. After 20+ years of throwing much of your time, resources, and emotional equity at your kids, it's time to get selfish for a bit and think about your retirement plan. I don't just mean setting a soft goal of calling it quits at 62. I suggest you have some serious conversations with yourself, your spouse, and your CFP® professional.  
Here are 12 questions you should be asking each other and your advisor: 
What matters most to me now? What role will money play in my life? 

Without tuition bills to pay, is it time to max out saving into my retirement plans? What are those limits for me? 

What if the kids boomerang back home? How will I handle that possibility? 

What other assistance might I need to give others? Parents? Grandkids?  

How will my income taxes change now that I have no dependents? 
When it comes time to retire, What Will I Do All Day?  

What becomes of the house – will we downsize in retirement? What would we need to know? 

How will I cover healthcare before age 65? 

Do I have the flexibility to retire early? 

How should I be invested for this next phase of my life? 
They aren't minors anymore. Does my Will need to be updated?  

Am I ok with listing them as a direct beneficiary on my accounts? Or would leaving them that amount of money be a risk to them? 
With each new phase of life comes a whole new list of questions and considerations. Being an empty nester will also come with a slew of new emotions. Take the time to reflect and be sure to have a thought partner like us to talk through the good and the bad, and put a plan in place that works for you.  
Investment Advice offered through Great Valley Advisor Group, a Registered Investment Advisor. Great Valley Advisor Group and Haas Financial Group are separate entities. This is not intended to be used as tax or legal advice. Please consult a tax or legal professional for specific information and advice.  Tracking # T005774