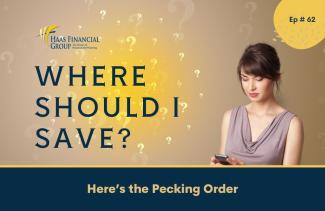 Where Should I Save? Here's The Pecking Order.
Cash reserve first - 1:38
Tax treatments - 4:15
Employer plan options - 5:52
Diversification - 7:46
Investing outside of a savings account - 10:12
Deferred compensation - 12:54
Health Savings Accounts - 14:54
Stock options - 16:59
What's the best way to go about saving money? The pecking order of savings, like many things in financial planning, is dependent on an individual's situation.   During our financial planning process we will have to make certain assumptions, especially around taxes and compensation later in life, but we focus on doing the most efficient thing that we can, while still offering some flexibility.  Diversification of savings for accessibility and taxes in the future is key.  We have a process to go through this with you. 
Investment advice offered through Great Valley Advisor Group, a Registered Investment Advisor. Great Valley Advisor Group and Haas Financial Group are separate entities. This is not intended to be used as tax or legal advice. Please consult a tax or legal professional for specific information and advice. All content and information is for informational and educational purposes only. Tracking # 1-05221661