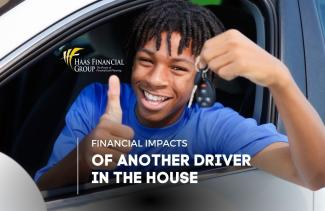 Financial Impacts of Another Driver In The House
There might be mixed emotions as your child approaches driving age. On one hand, your days as a taxi/Uber service may be dwindling, giving you back some valuable time in your day as they cart themselves to activities and practices. On the other hand, it may be unnerving to think about your child on the road, needing to be responsible for themselves and others at the ripe age of 16. Sadly, teens have accidents 4x more often than any other age group.1 
As you balance the emotions of having another driver in the house, there are also some financial considerations we typically review regarding your new driver. And many center around the financial risks and covering those risks with insurance. Insurance companies employ lots of people to assess risk and analyze data. It shouldn't surprise you to know new drivers add to insurance premiums, especially younger inexperienced drivers who are prone to fender benders and dings and dents.  
Talk to your agent about the difference between adding the driver to your policy vs. getting their own policy. Find out the cost benefits and whether it makes more sense to separate yourself from your child's future driving record.  

Consider taking out an umbrella policy if you don't already have one. Car insurance policies have limits on what they will cover. An umbrella policy would absorb the risks beyond those limits, God forbid an accident occurs where damages are far more severe.  

Will you absorb this expense, or will your child be responsible to "pay their way"? 

Depending on the vehicle, does it make sense for you to carry collision on the car? Newer vehicles have a higher cost of replacement. Older may not. Is this a place to save some dollars? 
What about the deductible? While low benefits, low limits and high deductibles will decrease insurance premiums, the onus will be on you and the family to put more out of pocket if something happens. 

Does your insurance company offer any "student discounts" for good grades, or reduced premiums for accident-free driving or driving lessons? These savings could go a long way! 
There are other considerations too, that have more to do with responsibility and learning good money habits. For example, are you providing a vehicle, or is your child to save some money in order to purchase one important to you? How about gas money? Good money management habits can come out of this new life experience, if you want this new potential freedom to be  
Investment advice offered through Great Valley Advisor Group, a Registered Investment Advisor. Great Valley Advisor Group and Haas Financial Group are separate entities. This is not intended to be used as tax or legal advice. Please consult a tax or legal professional for specific information and advice. All content and information is for informational and educational purposes only. Tracking # T005966