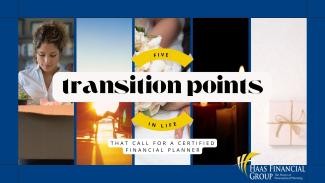 5 Transition Points In Life That Call for a CERTIFIED FINANCIAL PLANNER
I spent one summer listening to a lot of Jerry Jeff Walker. To me, he's famous for the chorus he wrote in one particular song, Lovin' Makes the Livin' Worthwhile.  It's a love song focused on rolling with whatever life throws at us and accepting that "the only sure things are taxes and dying." He's right, life throws us a lot of curveballs and there's no sure way to know exactly what the future holds (but love makes the living worthwhile!).
Dealing with future uncertainty is a huge part of financial planning. It's the reason people build cash reserves, buy insurance, and diversify their assets. But even the "best" financial plans won't be on script for long. Too much changes in the world around us and in our individual lives for a good plan to stay static over time. Managing that uncertainty by anticipating life's changes and adapting to new situations is a big part of what my clients ask me to do.
To that point, our advice is most often sought when people are going through a transition point in their lives and don't feel as confident as they would like to feel, or aren't sure what steps to take to move towards their goals. These are often stressful situations where our partnership and experience can be really helpful:
The loss of job or a change in career
The transition into retirement
Or changes based on personal relationships like a marriage or a divorce
Or the unfortunate loss of a spouse
Or perhaps a new financial responsibility such as managing an inheritance
Whatever the catalyst, as comprehensive financial planners we've seen enough, been through enough, and helped manage enough situations to be able to help people through life's inevitable changes, expected or not. We strive to minimize the surprises that can come at times of uncertainty, and help guide the decision-making process by sharing our experience. While it's good to learn from our own mistakes in life, it's even better to learn from others mistakes – and that's what we try to help our clients do.
Over the course of the next couple weeks, we'll discuss each of these scenarios and how our role as financial planners can help someone going through a transition period. Change is inevitable, because as Jerry Jeff Walker tells us "the only sure things in life are taxes and dying." For everything else, we need a plan, and some support. We're here to help.
Investment advice offered through Great Valley Advisor Group, a Registered Investment Advisor. Great Valley Advisor Group and Haas Financial Group are separate entities. This is not intended to be used as tax or legal advice. Please consult a tax or legal professional for specific information and advice. All content and information is for informational and educational purposes only. Tracking #1-779363