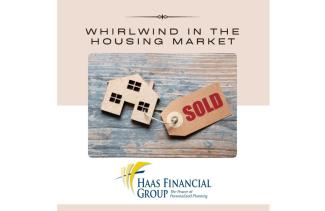 Whirlwind In The Housing Market
2020 and the first half of 2021 has definitely been a seller's market for houses. There aren't any complaints when people are getting above their asking price but buyers are struggling greatly to compete in such a fast-paced market. Personally, I have been keeping a close eye on house prices and the average length of time that houses are on the market as I'm prepping to house search in the beginning of 2022. To say I'm intimidated with the state of the current housing market might be a bit of an understatement. Being a first-time home buyer is scary on its own, but then to feel rushed into putting in an offer on a house just to "have a chance" to compete with other potential buyers isn't exactly what I had in mind.

I apartment hunted in York, PA in 2019 which had its own hurdles but the biggest takeaway from that experience is that you had to be the first applicant to get the place. However, there was no time to delay when new listings appeared and a 2-hour drive hampered being quick to viewing it so long story short is that I got an apartment that I didn't see until AFTER I signed the lease. Luckily it was as good as the pictures showed and overall a good experience but house-hunting is a whole new ballgame.

If I needed, I could've chosen to leave my apartment after a year and look somewhere else if I wasn't happy but buying a home just to sell it a few years later isn't as easy. People are currently choosing to waive inspections, offer above the listing price, offer to buy in all cash, and/or purchase without even viewing the property just to secure a home! In my opinion, there is a line to be drawn to wanting a home and feeling confident in the investment you're buying. Some tips that I can currently give based on stories I've heard or research I have done to be as educated as possible before jumping in the whirlwind of the housing market is noted as follows:
If you don't have a firm timeline (i.e. lease running out), don't rush to find a home. I am currently living with my parents and as much as they want all my things out and I want my own space, it's not worth buying a house that didn't have an inspection just to find out the roof or plumbing needs to be replaced within 6 months of moving in.
Get pre-approved! This will give you a slight advantage over those who don't as you know what you can really afford as well as have a head start in the buying process if your offer is accepted on a home.
Do your homework and research the area you're interested in looking at. This can include what school district the house is located in and the estimated property taxes you'll be expected to pay. Just keeping those things in mind will help narrow the potential home search.
Find a realtor you can trust and has your best interests in mind. This goes back to researching who is well regarded in the area you're interested in and hopefully you could even get a referral from someone you know who's previously worked with them. There's no harm in having one as the cost of a realtor typically falls on the seller and they will help negotiate and complete paperwork on your behalf.
Have an adequate cash reserve to afford a down payment. The general rule of thumb is 20% down on a home but you can put a smaller percentage down but know you will have to have private mortgage insurance (PMI) included in your mortgage until the 20% is fulfilled (Note: you must request this be removed once you hit 20% or it will be included until you have paid 22% of the mortgage principal).
There should also be a cash reserve buffer for unexpected costs for your new home purchase as well. Even though you may think your new home is turnkey or that you've adequately prepared changes, there will always be unplanned things to fix or things that will turn it from a house into a home.
There are many types of homeowner's insurance try to find an insurance company/agent that you trust to help guide you through acquiring the right types and amount of coverage based on your needs.
The biggest takeaway is doing your homework and being educated to the best of your ability in regards to your home search. It's tough when currently things are moving so quickly but having a foundation of knowledge can help you make educated decisions in the housing market. Remember, don't stretch yourself too thin just to finally be a homeowner. The right house will come along when it's meant for you, or at least that's the motto I'm currently sticking with.
By Holly Hinkle, Financial Planning Assistant
Tracking # 1-05157079