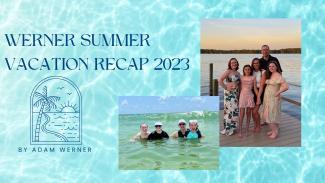 Werner Summer Vacation Recap 2023
After back-to-back summers at different North Carolina beaches (Holden Beach and Emerald Isle), we were set to return to one of the two again this year. However, when searching for a house to rent for the week, we were met with some significant sticker shock compared to the costs of the last couple of years – inflation strikes again! So, we began expanding our search further and further south until we eventually found available houses in Florida for the week we had set aside this summer. 
In financial planning, we often discuss the trade-offs of decisions, and planning this vacation felt like it was full of potential trade-offs. Booking a house in Florida could save us several thousand dollars, but this came with the cost of getting TO Florida. It didn't take much time researching flights for a family of 5 to lead to a brilliant (please read that with sarcasm) idea: driving instead of flying. We wisely chose to split the drive to Florida into two segments. On day one, we drove about 12 and a half hours and stayed at a hotel in Brunswick, GA. The next morning, we completed the journey with a final 4-and-a-half-hour drive to Palm Harbor, FL (just outside the Clearwater area). 
I'm not what you would consider a "beach or ocean person," but after visiting enough East Coast beaches in my almost 39 years, Florida's Gulf Coast is starting to change that for me. There's a different vibe to the beaches and the ocean (or Gulf of Mexico, to be specific). The sand is remarkably white and fine, making it much more pleasant to walk on in the summer heat. The Gulf waters are incredibly clear compared to the Atlantic Ocean in New Jersey, Maryland, and even North Carolina. Not only is the water clearer, but it's also much warmer (we were told the water was 88 degrees while we were there) and lacks the steep drop-off or abundance of broken shells that you have to navigate as you wade out to swim and float. We spent several days on the beach at Honeymoon Island State Park. Many of the beaches are state parks, and they all have their own unique feel. 
We stayed in a charming house right on Lake Tarpon with a fantastic pool that we enjoyed EVERY day! We took a day to explore Clearwater (we even drove right by the Phillies spring training stadium!) and couldn't resist making a stop at Frenchy's to try the area's famous Grouper sandwich (which turned out to be pretty delicious!). 
Remember when I mentioned earlier that we wisely split the drive on our way to Florida? Well, I can't claim the same level of smart decision making for our return trip, but I still believe it was the right one. In my infinite wisdom, I thought that leaving around 6 am and driving the 17-18 hours straight home would allow us to sleep in our own beds and have a full day to unpack and recover before diving back into our routine on Monday. In reality, we did make excellent time, and aside from occasional traffic, the drive went quite smoothly. The most challenging part by far was navigating the Baltimore/DC area, where it seems that traffic is perpetually heavy, regardless of the time of day or night. I assumed that by 9-10 pm on a Saturday night, the traffic would be manageable, but boy, was I wrong. Perhaps the stress was amplified by the fact that I had been behind the wheel for 15 hours at that point and was both mentally and physically exhausted. Despite Amy's repeated offers to take over, I declined each time. Even though the drive was taxing, I'm not a good passenger in those situations either, and I felt that I should at least shoulder the burden of navigating through the sea of vehicles and other drivers on the road. I do have to say that the kids were absolute rockstars on the road trip – no unplanned stops (except for a traffic-laden stop for gas to check out a Buc-ee's), no carsickness and lots of fun finding license plates from other states (I think we got at least 30!). 
We will definitely be back to the Gulf Coast soon, but next time I don't think I'll be driving J. 
Investment advice offered through Great Valley Advisor Group, a Registered Investment Advisor. Great Valley Advisor Group and Haas Financial Group are separate entities. This is not intended to be used as tax or legal advice. Please consult a tax or legal professional for specific information and advice. 
Tracking # T006102