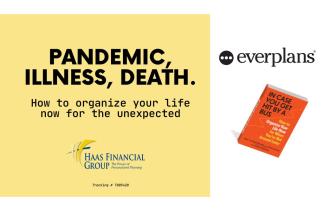 Webinar Recording: Pandemic, Illness, Death. How To Organize Your Life Now For The Unexpected.
Why you do estate planning and what you need to do, really aren't the hard parts. It's how you truly plan to answer a lot of the other questions. And that's what we want to think about in this webinar.
How do you really organize your estate? Is there a system for passwords and access to all the online stuff that makes up your life? A complete list of accounts, life insurance, bills, debts, plans for who gets what? Those little things that are really important to you and your family? Have you stated what matters most to you? Are there things that you want to be passed down that may not be possessions, such as your interests, your beliefs, life lessons? And then how do you communicate all of those wishes and review that over time?
Just asking those questions, it sounds really daunting. Which is actually why most people don't do it. Only 33% of Americans have a will. And if you think about it this way, if you didn't have to file taxes, would you? It's not a fun thing. There's nothing that says you have to have a will or take these extra steps. Even if it's important to do, that's probably why 67% of people don't do it. And if you don't, you're just left with the defaults.
While it isn't fun, we hope by using one of the tools mentioned in this webinar, it will help you become motivated to prepare for something that we know will happen - we just don't know when.
Watch the webinar here:
Online Tool (Everplans):
Book: In Case You Get Hit By A Bus by Abby Schneiderman, Adam Seifer, Gene Newman
https://www.amazon.com/Case-You-Get-Hit-Bus/dp/1523510471
Tracking # T005420