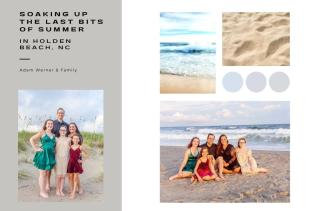 Soaking Up the Last Bits of Summer in Holden Beach, NC
My youngest daughter, Axy, turned 9 in June and it's been even longer than that since we took a legitimate, week-long family vacation, let alone visiting somewhere that wasn't in PA or a bordering state. After being home-bound for most of 2020, we decided we were long overdue for a beach vacation and rented a house on the beautiful and secluded island of Holden Beach, North Carolina. I was introduced to this quiet little island through my wife, Amy, and her extended family. Holden Beach occupies a special place in our hearts as that's where Amy and I got engaged 16 years ago (my goodness time flies!?).
So, we loaded up the family truckster and started our drive to NC at 4:30am on Saturday morning and a "scant" 10 hours and 15 minutes later we had arrived! Since it was our first real vacation together, there were plenty of new experiences with most of them being positive, but some...not so much.
Within our first 30 minutes of actual beach time, Axy got stung by a jellyfish. Some minor first aid and the use of a miracle product called the "Bug Bite Thing" and she was back in the water with no fear, in no time.

By the way, I'm not a paid spokesperson for the "Bug Bite Thing" but if you or anyone you know is anything like me and is beloved by mosquitoes, it is a life saver!

Had some pretty amazing homemade ice cream at the Saltwater Shanty

Placed an order via Doordash for dinner that was eventually canceled by the restaurant at 8pm, so we ate Domino's Pizza at 9:45pm

😊

First time for us to mini-golf together – Ainsley and Amy each with a hole-in-one (for the record I crushed them in overall score like any good dad should, haha)

I did some reading that wasn't exclusively business, finance or car related for the first time in years maybe? I highly recommend a book by the late, great Alex Trebek called The Answer Is..., it's an incredibly quick read (this book was passed on to me by a wonderful client of ours, shoutout to you, Scott, thank you!)
Then before we knew it, it was time to pack up and head back home to non-vacation life. A miserable 12-hour drive later, in the typical mess of I-95 traffic, we were home with a whole 36 hours until Amy and I returned back to work and more importantly, until the kids went back to school in-person for the first time since March 2020. So, a quick snap back to reality for all of us, but we enjoyed some much-needed time to unplug (I did as best I could, I need more practice apparently). Hopefully we created some lasting memories spending time together eating too much junk, drinking a couple of extra drinks, and lounging just the right amount in the sun and sand.
It was so nice we may even have to do it again and next time around we might not wait another 10 years 😊.
Tracking # 1-05187718