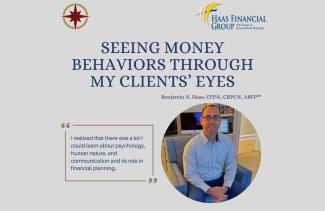 Seeing Money Behaviors Through My Clients' Eyes
Seeing money behaviors through my clients' eyes
By Benjamin Haas, CFP®, CRPC® ABFPSM
As a financial planner, I don't just get paid to develop financial strategies for clients. I get paid to help them put sound advice into action. Advice without action accomplishes nothing. So while my education and earning the CFP® certification taught me about creating financial plans, I did not become truly effective in this field until I began to develop the skills to understand money behaviors through my clients' eyes and to communicate my advice in a way that led to action. I needed to become better at the art of communication, and that starts with understanding my clients' perspectives.
When clients are making decisions about how to spend money, save towards their goals and navigate turbulent markets, they pull from their experiences. They're using their brains. So, to me, it made sense to learn a little bit about the brain, why we consciously or subconsciously act and react the way we do. We all have personal triggers and our unique experiences create biases that matter in those decision-making processes. If my clients need that level of guidance, that is not going to come from an algorithm, calculation, or any amount of historical research. It's going to come from learning about behavioral finance and developing better communication skills.
I think we all saw how this pandemic has changed certain perspectives in our lives and affected people emotionally. I believe this has made it more socially acceptable to talk about mental health and our emotions and shows how we may need to seek help and support each other with big decisions in life. It's no different in finance. That realization motivated me to get better about providing the space and environment for clients to feel comfortable sharing the truths about their lives that may prevent progress or skew decision-making. That's why financial professionals should be trained in recognizing biases or fractured decision-making patterns and be ready to counsel when called upon.
What's more, in February of 2021, I read that CFP Board would be updating its Principal Knowledge Topics to include "Psychology of Financial Planning." Client values, their biases, sources of money conflict, crisis management, counseling, and effective communication are the skills true financial planners need to become more proficient in.
I realized that there was a lot I could learn about psychology, human nature, and communication and its role in financial planning. I found all of this and more in the curriculum for the Accredited Behavioral Finance ProfessionalSM (ABFPSM) program. If traditional finance is more science than art, then behavioral finance is more art than science and both are needed to effectively communicate financial advice.
I've used my knowledge to try to get better at asking questions and listening more attentively to responses. I'm trying to become more comfortable digging deeper into topics that might feel a little uncomfortable so that I can confirm my understanding of clients' perspective. I believe it's helped me be more vulnerable, authentic, and empathetic. I have learned how to step out of my own worldview and see money behaviors through my clients' eyes.
I learned more about the human nature of loss aversion, how certain experiences in a client's life may have generated a bias for how they may want to act in the future, and even how certain financial decision-making happens in the human mind. I can now sincerely say things like, "I believe I know why you're thinking that way. Let's work through this."
If nothing else, I have increased confidence in understanding my clients' needs and my ability to better communicate how I can help them put advice into action.

Link to the article published in Advisor Perspectives here:
https://www.advisorperspectives.com/articles/2022/02/15/seeing-money-behaviors-through-my-clients-eyes
Benjamin Haas, CFP®, ABFPSM is a Wealth Manager with the Haas Financial Group and a graduate of the College for Financial Planning®—a Kaplan Company. Investment advice offered through Great Valley Advisor Group, a Registered Investment Advisor.
CRPC conferred by College for Financial Planning.
Tracking # T003669