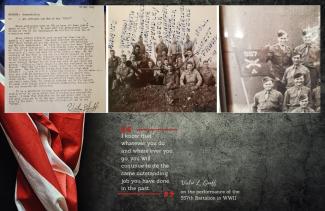 Remembering My Grandpa, WWII Veteran
I have such fond memories of my grandparents.  They were patient, kind, hard-working, and loving.  They enjoyed spoiling me. I loved spending time with them and caring for them in their older years.  They had some unusual habits too that I never understood until I got older.  They saved all the ketchup, jelly, creamer, and sugar packets from restaurants.  They had extras of household products and never left a scrap of food on their plate.  This is the result of living through the Great Depression and both World Wars.  I take pride in the fact that I learned some of those good habits from them; cutting coupons, rarely throwing food away, and being a pretty good listener.
My grandfather didn't talk much about his experiences during WWII.  He finally opened up about his younger years when reaching his 80's, then he wanted to document his legacy for his children, grandchildren, and future generations.  My grandfather served in the United States Army in the 557th AAA, AW Field Artillery Battalion mobile unit from March 1943 until November 1945.  My grandfather started his training in Fort Jackson, South Carolina in 1944.  At the time, my grandmother was pregnant.  She made the trip to South Carolina with him, but in late 1944, he was deployed to Germany to fight for the Allies in WWII.  Upon arrival, the 557th quickly moved into position and was tasked with helping the 334th Infantry cross the Roer River.  This operation led up to their eventual positioning in the Battle of the Bulge.  It is both remarkable and unbelievable that he lived to tell his story.  He was quick to share that a huge boat brought him back home, another significant experience that he would never forget.
Reading through his collections and writing this article made me teary eyed.  Because for how many times my grandparents told me that they were proud of me, I wish I could tell them right now how proud I am of them and all the sacrifices they made for me to have the opportunities I have today.  Every day when working from home, I have my grandpa's 557th unit picture hanging above my computer; watching over me, providing guidance and courage to accomplish anything.
By: Devon Volker, Client Relations Associate
Tracking # 1-05208893
Here are a few pictures and letters from his collection: