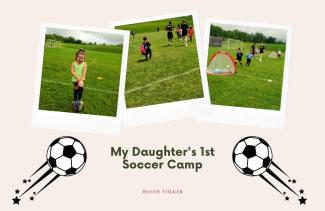 My Daughter's First Soccer Camp
Growing up I had a passion for soccer and aspired to play Division I in college, which I did at Duquesne University (albeit only for one year).  It wasn't easy getting to that level of competition because I started playing soccer much later than most kids my age.  I was 10 years old and had a lot of catching up to do in comparison to my competition.  However, looking back, the late start made me work harder to progress faster than everyone else. What I lacked in skill; I knew I needed to make up for in effort.  I started running every day, eating healthy, practicing on my own, and played pick-up games whenever I could.  My friends, my mom, and my coach were my biggest supporters and encouraged me to continue to challenge myself in the sport.  The naysayers also drove me to try harder and prove them wrong.
So, when my daughter showed interest in playing soccer at a young age, I was thrilled.  One thing you can't teach is enthusiasm and desire; and my daughter has both.  I immediately started scoping out the best programs for kids in the Lehigh Valley and Reading areas. Now that she is 4 years old (and COVID restrictions are waning), there are more opportunities for her to be involved in camps, leagues, and trainings.  You better believe I'm going to give her the best chances to succeed in the sport, if that's what she wishes to do. I started my research to find a local, summer soccer camp back in March by making as many connections as I could in the local soccer community. Even now, information on soccer can be hard to find and a lot of it comes down to who you know. It was important to me to find a camp with reputable coaches and a smaller group where she could receive some dedicated instruction.
We settled on a "Game Changer Camp" with Perfect Touch Soccer in Hamburg, PA.  The ages ranged from 5 – 18 years old.  We knew Mavis would be the youngest one (a few months shy of 5) but were assured that she'd be fine to participate. She loves soccer, competing, and having fun! I didn't know what to expect (I think I was more nervous than her), but I hadn't envisioned her doing hill repeats and burpees on the first day in 90-degree heat.  I am proud to say that she finished with the two 7-year-olds in her group every time and never gave up on a single activity. Fitness is a huge part of the sport, and they definitely pushed the limits no matter how old you were.  During breaks, her group got to know each other better and discussed what they learned during practice.  Each night there was a small homework assignment that ranged from telling a joke to showing off a new move the next day.  On the way to camp, we discussed the importance of being early to practice, listening to her coaches, trying as hard as she could, and supporting her team.  On the way home she fell asleep J
I think that playing soccer, or any sport or activity, allows you to grow as an athlete and as a person.  It amazes me how Mavis can go into any situation and make friends with kids that she never met before.  She has the natural ability to connect with her peers and coaches through her smile, willingness to try new things, effort, and general joy.  She makes me proud to be her mom and it was a pleasure watching her compete and grow throughout the week. Apparently 4 days wasn't long enough for her because she was bummed when it was the last day.
By Devon Volker, Client Relations Associate
Tracking # 1-05169653