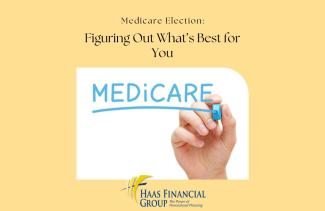 Medicare Election: Figuring Out What's Best For You
Age 65 is when people become eligible for Medicare, but oftentimes it becomes a confusing process trying to figure out which plan to choose. Clients often come looking for guidance throughout this election period and to help begin the conversation, we wanted to highlight some important details about the system:  
Your 7-month enrollment period begins 3 months prior to your birthday and ends 3 months after your birthday

NOTE: you still have to sign up for Medicare Part A at age 65, even if you plan to continue working. You can delay signing up for Medicare Part B-D until you stop working.

There are 4 components of Medicare:

Part A (hospital insurance): This covers in-patient costs such as hospital visits and hospice care. You'll be enrolled automatically in Part A once you sign for Medicare and is typically free as long as you work for 10+ years
Part B (medical insurance): This covers out-patient costs such as doctor visits and preventative services.
Part C (Medicare advantage): This uses private health insurance to cover services under Parts A & B
Part D (drug coverage): This helps cover the cost of prescription drugs

If you're already receiving Social Security benefits prior to turning 65, you'll automatically be enrolled into Parts A & B when you turn 65. 
Your Part B premiums will be based on your income and will be taken directly out of your Social Security.
You have the option to pick which type of plan(s) you enroll in for Part C and D and so you'll want to find one that fits best for your specific needs.  Getting this right on the first time is important as you'll most likely have to pay higher premiums if you switch plans later on in life.

If you're not happy with your supplemental plans, you have the ability to change what plan(s) you have during the fall open enrollment (October 15-December 7)
If you're still working or on your spouse's health care insurance after turning 65, you don't have to sign up for Medicare! There is a special enrollment period for when you choose to retire without incurring any penalties. Similar to Social Security, you'll want to get it right the first time since you can only make that decision once. We recommend calling a specialist that will help figure out what coverage is best for you and we'd be happy to introduce you if you need someone to talk to!
Tracking # T004563