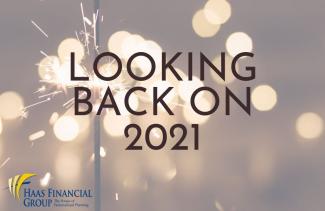 Ben's Reflections of 2021
When writing, I tend to try to find a theme. If 2020 was the year of change and resilience, then I'd say 2021 was the year of "juggling" for me. 2020 was all about hunkering down and muscling my way through it all. As difficult as it felt at times, there were parts that were nice. Things were quieter. I was home more. Time went slower (in a good way). As the world felt a little more normal, 2021 seemed to become the make-up year – busy, busy, busy again and it felt like a runaway train and a constant juggling-act. Reflecting back, I'm thoroughly exhausted!
Personally, Desiree and I managed a lot of sports schedules and kid activities. At one point we had three kids in five different sport seasons at one time. And while I didn't plan to help coach baseball, that happened. Cayden's involved in Jazz Band at school, takes private bass guitar lessons and spent several weeks over the summer at Albright's Science Research Institute learning about musical production. Add in craving friend time, catechetical classes resuming when church reopened, 8th grade homework and he's a crazy busy 13-year old. I'm learning patience, teenage perspective, and emotional competence all over again! I'm grateful for these lessons and our time together every morning driving to school though.
Gabriel continues to be the crazy middle child who just seems content to dance his way through life! Always doing something athletic or musical, he's really blossomed into a very smart and emotionally expressive kid. Lucas started pre-school and feels far older than 4-years old now. Time slow down! The two are always together. Always. I'm grateful for the way they make me laugh, for their teachers right now, and for their innocence and endless energy.
We got to travel again in 2021; Desiree and I spent time in Savannah again (we LOVE it there) and also in Arizona which was beautifully different. I'm incredibly grateful for her and the ability to spend time outside of our awesome little community. We also committed to some major landscaping around the house and can honestly say the vision we had for our new home pre-pandemic is almost now in full view. I found myself making my garage my sanctuary and building lots of different things this year and am thankful for that space and time. I'm grateful for an incredibly supportive wife and family manager, and for the fortunate opportunity to continue to make our house a home this past year.
I continue to spend a lot of time on work and with the several organizations I'm blessed to participate in. But I think my biggest reflection from 2021 is to scale back a bit and slow down. I'm a pretty good juggler (figuratively) but that doesn't mean I should aspire to keep juggling. I look forward to continued health in 2022 and doing my best to control that by slowing down, recharging the batteries more frequently and truly counting my many blessings on a more regular basis.
Adam's Reflections of 2021
When we decided as a group to share our 2021 reflections, I'm pretty sure I audibly groaned, haha. I am one of those people that is definitely guilty of being able to live in the moment and enjoy it, but then immediately move on and look ahead to what's next (I realize there are pros and cons to this!).
My family has had our struggles this year with health, but I have to remind myself to keep it in perspective. While it can be a challenge at times, like many things in life, it's all relative. So, we don't take for granted that when compared to many others that are struggling with incredibly difficult situations, we are still doing alright and will keep our heads and spirits up!
On a brighter note, we were able to enjoy our first family vacation in a long-time and are already looking forward to doing it again next year. Thanks to COVID and a delayed 2020 trip, Amy and I celebrated two wedding anniversaries in 2021. For our 15th, we visited Florida for a few days in July and Amy won't stop asking me when we are going back! And we recently celebrated our 16th with a trip to watch the Sixers at the Wells Fargo Center and we also enjoyed the best meal of our lives at Savory Grille (all I can say is WOW!).
As many of you know, I come from a racing family and thankfully we were able to enjoy another Summer of racing this year. It had its ups and downs, like any racing season, but Ava struggled with an inconsistent car and did not have the year she was hoping to have. Next year she steps up to another class and will no longer have me as her co-pilot. Exciting and scary and the same time! As for me, I led points in my main class for most of the year until the very last race where I lost early and my dad did not, which allowed him to pass by me for the championship by the slimmest of margins, relegating me to 2nd place. It was the exact opposite of what happened last year, so turnabout is fair play, I guess. Looking forward to Spring to start it all over again!
Like ours, I hope your year was filled with more positives than negatives. As unnatural as it is for me to be introspective and reflect on the year gone by, I encourage you to do it as well and hope you'll join us in a toast to say farewell to 2021 and welcome in 2022. Cheers!
Holly's Reflections of 2021
As everyone says, each year goes a little faster than the last and 2021 was no exception. Ben shared the idea about wanting each of us to write about our favorite memories from 2021 and it made me realize the importance of taking time to reflect on all that has occurred throughout the year. It's a chance for me to cherish all the memories that were made but it also makes me look forward to the future and what it will hold.
Family time is very important to me so my favorite memories from 2021 are vacations! I was able to go on vacation to Myrtle Beach with my parents and my oldest sister, Trish. This is the first vacation we went on together and it is something I will always cherish. She and her husband live in Alabama so we don't see them very often, but we love all the time we get together when they're home visiting us. We also took another family vacation to the Finger Lakes. I love any opportunity to relax by the lake drinking some wine but this year was especially special because I got to share these moments with my boyfriend, my parents, my middle sister, Keturah, my brother-in-law, and my niece. I also loved being able to see friends in person this year and getting to go places, such as an NFL game or local wineries/breweries. It's nice to feel some normalcy and being grateful for my health and for those around me.
I don't know for sure what 2022 will be filled with but I'm hoping it's many great experiences and a home purchase. I hope everyone has a happy, healthy, and prosperous New Year!
Devon's Reflections of 2021
All in all, for me, 2021 was a pretty good year.  Here are a couple of highlights from my year:
My family and I were all relatively healthy.  We had the chance to be more active again with things becoming more routine.  Mavis had the opportunity to attend her first soccer camp, she played soccer for both Kutztown and Western Lehigh clubs, completed the Healthy Kids Running Series, and started piano lessons.  August got to be the little tag along brother to all those events, but also had the opportunity to participate in a Tot Shots soccer program, the Healthy Kids Running Series, and started preschool in July.  Matt and I will reach our goal of running 1500 miles and we've incorporated other fitness activities into our routine.
We enjoyed a couple of family vacations to new and familiar places.  We visited Charleston and Folly Beach, SC for some beach time and great food.  We also had the opportunity to make a pitstop in Columbia, SC on the way home to visit a children's museum, which is home to "Eddie" (as seen on Blippi). Another new spot for us this year was Virginia wine country and Shenandoah National Park.  The area is beautiful with lots of great views and hiking.  We had the opportunity to check out some wineries, breweries, and meaderies during our time there too.  And of course, we had to go back to Ocean City, NJ twice.  The kids just love the beach and boardwalk and it's a relatively quick drive.
2021 marks the last full year in my 30's (ahh!). I'm not feeling too anxious about the big 4-0 yet.  Check back in with me halfway through 2022.  I'm not a huge fan of big parties or celebrations, but I'm hoping we can continue our tradition of checking out a new vacation place. Any suggestions are welcome, as our plans have not yet been finalized!
Tracking # 1-05224526