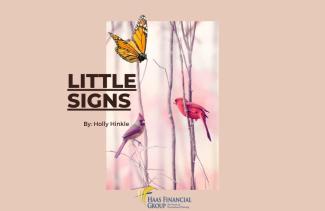 My grandma's favorite bird was the cardinal. She would always comment how pretty they were and everyone knew those were her favorite birds that would come to her bird feeder outside her dining room window. After she passed in 2019, seeing cardinals always reminded me of her and my pappy as I typically see them in pairs and it always feel as if they're coming by to say hi. Since I moved, I haven't really seen any but I've now been fortunate to see them quite a bit this week and I like to think that they finally figured out where I live now and can come "visit." 

On Monday night, my family and I spread my uncle's ashes with close family friends of his. We did it on their farm as my uncle would religiously go there and walk with them most work nights at 5pm; it was one of his favorite places to be. In honor of him, we did the walk that they have done so many times before, spreading him at their favorite places to take a break and enjoy the scenery. When we got to his favorite sitting place, we all chose to hang out there and the view was stunning. The sun was shining all across the fields with the mountains off in the distance; no picture could do that view justice. Then, in the open field in front of us was a beautiful butterfly that flew around close by for a few minutes which felt like it was a sign that he was with us. 

It's funny how such simple animals can remind us of such important people in our lives. Even though they're not physically here with us, it makes us feel like they're still close by and checking in. These little signs bring comfort and are a reminder that it's never goodbye, just a see you later.
By Holly Hinkle, Financial Planning Associate
Tracking # T004194