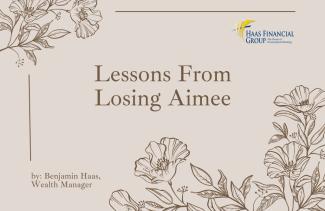 Lessons From Losing Aimee
Sometimes life hits you hard. I'd been to a few funerals in the span of just weeks, and then learned a few weeks ago that a local attorney unexpectedly died at age 39 leaving behind a wife and four kids. It makes you question your own mortality in a way. I found myself scrambling to review my own estate plan, insurances and funeral plans – just to feel at peace that Desiree wouldn't be burdened with all of that. I was already feeling a little heavy when I got word over the weekend that another close client of mine has passed away. This only a few years after saying goodbye to her mother [https://www.haasfinancialgroup.com/blog/lessons-losing-pat]. 
Dealing with loss might be the most difficult thing any of us has to go through in life, even though we know it's inevitable. No one is spared from the realities of death and naturally, the closer you are to the person you've lost, the harder it will be. I've learned not to assume how people think or feel when they are going through their own process of grief and mourning, but I can imagine the loss of a sibling, a parent, or God forbid a child can feel borderline unbearable. I know that losing her parents was difficult on Aimee. We shared emotional conversations. She was doing the best she could. I find peace in picturing the three of them together again and knowing she's at peace. 
Fact is, by just about anyone's standards, Aimee didn't have an easy life. A bad car accident many years ago forever changed her life. Not only did she have many physical ailments over time, but the accident reduced her cognitive capabilities and forced her parents to plan to provide for her in different ways, both while living and after they passed. She was sweet and caring, admittedly defiant at times, pushing boundaries and putting herself in compromised situations. But a lot of that stemmed from her seeking independence and wanting more out of her new life. At her core, she was creative and kind and very thoughtful and generous with others. She'd send me home with her handmade jewelry, a hobby of hers. She wanted Desiree – someone she'd never met - to enjoy her talents and creativity. That was Aimee. 
I'll miss her, and that whole family. It's the end of an era. She's not survived by any children – just the cat. While sad, I'm grateful I had the opportunity to get to know her better after her Mom passed and was grateful to hear from her as frequently as I did. The random messages I would get were always evidence of her trust and appreciation for our relationship, and a constant reminder of why I do what I do. You form relationships and attachments to certain people and situations well beyond the advice they originally sought. I certainly had that with Pat and Aimee. And was glad to be a part of their inner circles.
Rest in peace, Aimee. You will be missed. But I know your Mom and Dad are happy to be with you again, and that makes me smile. 
By Benjamin Haas, Wealth Manager
Tracking # T004300