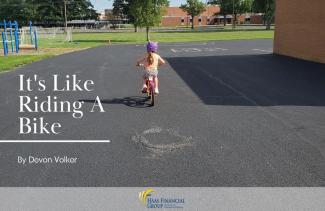 My children have always done things in their own time.  They were late to walk, late to talk, and generally approach things with caution.  Mavis has been riding her bike with training wheels for a few years now.  I always felt like the training wheels provided a false sense of reassurance that she would never fall.  They hindered her mobility in some ways and weren't giving her room to develop.
So, one day this Summer, I told her that we're taking them off because it was time to ride on two wheels.  Surprisingly she was immediately open to the idea.  I think because many of her neighborhood friends had already learned to ride their two-wheel bikes. 
I can still remember the day I learned to ride a bike.  My grandparents lived in Topton, and we went over to the Elementary School playground one day.  My grandpa had me peddle around with him holding onto the back.  Then he randomly let go but didn't tell me.  I looked back and he said, "you're doing it all on your own."  This was the same approach that I used with my daughter.  Within 3 days she was zooming around like a pro.  She even started talking about riding her bike to school when she's old enough.
I am proud of her for trying something new, her ability to pick things up quickly, and not getting discouraged the first time around.  I am happy that she took another step forward towards independence, and that Matt and I can finally start moving away from our double jogging stroller on our weekend trail runs 😊
Tracking # T004477