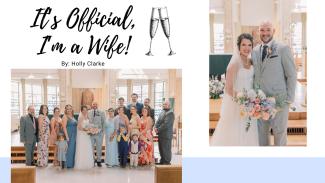 It's Official, I'm a Wife!
If you would've told me that I could plan a wedding successfully in ~5 months, I would've told you no way! However, once we committed at the end of April to move up our wedding, I went into full force planning mode scouring the internet for available reception locations and vendors. I truly believe we were meant to get married in 2023 (a sign from God in my opinion) as everything just fell together for us: I bought my dress off the rack and it only needed the bottom hemmed (any woman could tell you that's nearly impossible when it comes to wedding dress alterations), we were able to get married on the day I had hoped (our church really helped us out with that one), we were able to lock in vendors that we absolutely loved and every one of them exceeded our expectations, the rainy weather held out until Saturday night, and the best part: we got to say "I Do" surrounded by our closest family and friends. 
Although it wasn't what we originally envisioned for our big day and it was stressful leading up to it (it's no joke when people say planning a wedding is like a 2nd job), it was absolutely perfect and I would 110% do it the exact same way if I had to do it over again.  
A few highlights from Saturday (it was extremely hard to only pick 5): 
Getting ready at my house with our moms, sisters, and my niece, Grace 
Michael's smile when he saw me walking down the aisle 

Father Maria's Homily  

My dad tearing up as he walked me down the aisle and during our parent dance (Michael's mom was also crying during this dance with him) 

All of the endless love and support we felt from everyone throughout our big day. It was truly a blessing! 
A few unexpected bumps along the way: 
I knew it would be tough since people start planning weddings at least 1 year+ in advance of the actual date, but the amount of no's we received from vendors when we asked if they were available was pretty surprising.

Silver lining: all the no's led me to keep searching and that's when I found the BEST vendors for our wedding (of course I'm biased but I am confident with this statement and stand by it).  

I came up with a pretty awesome budget that had lots of research behind it to get realistic averages for how much things cost, yet I still wasn't ready when certain vendor quotes blew out the budget I had come up with. Honestly, I just had to accept that areas I was under budget on would be re-allocated to the few "splurges" we decided to do.   

People always told me to just enjoy the day and don't get hung up if something doesn't go as planned. Thankfully, I took this one to heart and didn't stress when things weren't always perfect.

Best example of an unexpected event: our guests started helping themselves to the dessert bar before we even cut the cake.  

Pro: everyone thought it looked delicious and wanted to try what we had!  

Con: Michael and I didn't get to try a single macaron 🙃  
My advice to other couples planning a wedding: 
#1 thing that married couples told us: the day will go by so fast and be a blur. BELIEVE THEM! Try to be as present as possible and soak in every amazing moment of your wedding day.  

Have a recessional line (if it fits into you and your fiancé's wedding timeline)! We were so happy we decided to have one after the ceremony as we were able to greet and have small talk with all our guests which may not have happened otherwise. 
Remember what a wedding is all about: your love and commitment to one another 😊 Use that as your guiding light throughout planning and everything will fall into place like it did for us!  
Investment advice offered through Great Valley Advisor Group, a Registered Investment Advisor. Great Valley Advisor Group and Haas Financial Group are separate entities. This is not intended to be used as tax or legal advice. Please consult a tax or legal professional for specific information and advice.  
Tracking # T006181