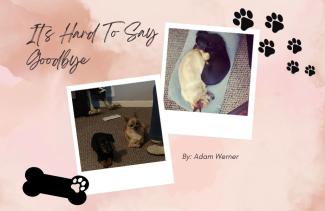 It's hard to say goodbye, so until we meet again…
September turned out to be a tough month for my family. Having two aging dogs, we knew this day would come eventually but it was especially hard having to make the decision to have both of our dogs cross the rainbow bridge together. 
Ace was 16, Gypsy was a couple weeks from 15. While we were incredibly lucky to have so much time with them, it also made it incredibly difficult to say goodbye. My daughters are 17, 12 and 10, so the dogs were around, essentially, their entire lives. They were the first pets, besides fish, that Amy and I had together. Ace and Gypsy were together virtually their entire lives too. Which made it really tough when their health declined pretty quickly at around the same time. We made the decision as a family to use Lap of Love to come to our house to help them pass peacefully in the comfort of their home. I can't say enough good things about Dr. Becky and her level of communication, professionalism, and compassion during a difficult point in our family's journey.
In her old age, Ace wasn't quite blind, but sight wasn't her strong suit! Other than that, she was in great shape for a senior dog and still had some pep in her step most days. We joked that she was going to live forever. Unfortunately, she started having seizures and her cognitive health declined rapidly. In her younger days, Ace didn't meet a person she didn't like. And if you had a tennis ball to throw, your arm would get tired well before she would.
In her old age, Gypsy could see just fine, but couldn't hear a damn thing. And within the last couple of months, she started developing other issues and her joints weren't allowing her to navigate steps without a lot of struggle. Lots of carrying was needed up and down the steps for her to spend some time in the yard, but thankfully she only weighed 7 lbs, so everyone took their turn helping her out. In her younger days, Gypsy wasn't a huge fan of anyone that wasn't part of our house, even our relatives! But as she got older, she mellowed out and loved greeting people at the door, especially whenever Amy would get home. She'd hear the car door and be waiting at the window, barking and wagging her entire body in excitement.
Thank you Ace and Gypsy for being the lovable yet annoying pains in the butt that any good member of a family should be. You'll be missed...until we meet again.
Tracking # T004586