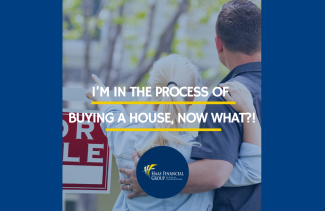 I'm in the Process of Buying a House, Now What?!
I originally thought getting our offer accepted would be the hardest part of buying a house, however, I'm realizing there's a long list of other financial considerations we're facing: 
Should we put more money down than the amount we originally allocated for a home purchase?  

What is the best homeowner's insurance to get? 

How much is an adequate cash reserve for monthly expenses since we don't have definite utility costs yet? 
And most importantly: how can we make sure our home doesn't become a money pit?! 
Some of these questions are easier to answer than others due to working in this profession but at times I'm still unsure if I'm making all the right choices. I've come to realize it's normal to feel that way because it's a big financial decision! Here are some suggestions that I feel have worked best so far:  
One important note I'd like to reiterate prior to starting your home search: make sure you have enough money earmarked for closing costs and a down payment as soon as you start looking for a house. Once your offer is accepted, the process will move quickly and you don't want to be unprepared of what's expected of you financially at closing.  
TIP: Going through the preapproval process is a good way to see estimated costs and verifies if you have enough money set aside to cover your new home purchase 
Figure out what an adequate cash reserve is for you. Rule of thumb is 3-6 months' worth of expenses, preferably erring on the side of 6 months to have a buffer for home projects and unforeseen home expenses.  
Even though some monthly expenses won't be clear yet, such as utility costs, you can look at averages for the state you live in to get a good estimate! For example, PA's average for electricity, natural gas, water, internet, and streaming services is $376/month1. 
Once your cash reserve is figured out, you can move on to re-evaluating how much you'd like to make as a down payment. If you have excess cash, consider putting down more than you had originally intended. More money down means having a lower monthly cost for your mortgage. 

When it comes to homeowner's insurance, I'm nowhere near an expert but the general rule of thumb is making sure you purchase coverage that equals 80% of your home's total replacement value. This ensures that your insurance company will fully cover any home damages that are included in your policy.  
Lastly, I don't have an answer to making sure our soon-to-be home won't become a money pit but I think the main thing I need to remind myself is that we don't need to do all the painting and other little home projects as soon as we move in. Good things take time and that applies to making a house into a home. I'm excited to start this new chapter with my boyfriend but I think we're most looking forward to shorter commutes! 
By: Holly Hinkle, Financial Planning Associate
Resources 
1https://www.move.org/utility-bills-101/ 
Investment advice offered through Great Valley Advisor Group, a Registered Investment Advisor. Great Valley Advisor Group and Haas Financial Group are separate entities. This is not intended to be used as tax or legal advice. Please consult a tax or legal professional for specific information and advice.  Tracking # T005795