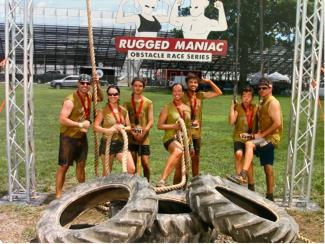 Desiree, Cayden and I did our first Rugged Maniac race on Saturday, July 30th at Maple Grove Raceway (no, Adam wasn't there) with our friends and their two boys. I have been running for years but started doing more body weight and dumbbell lifting in February with the help of a tele trainer (one of the positives of Covid). After Lyme and coming to terms with my age, I made it a goal this year to take good care of myself and this was one additional way to do it. The Rugged Maniac was an intimidating idea though.
First, because I didn't know what to expect. In the absence of having had a prior experience, your mind fills the spaces and if you have a worry gene, those unknowns can sometimes be filled with negative "what if" thoughts. Does that happen to you?
It was also intimidating going in because I knew this wasn't going to be a solo race. I wouldn't be able to just slump to the back of the line and do this at my own pace. It's meant to be a team thing. Helping each other over walls, lifting each other up (literally) encouraging each other. But how do you know if you're truly prepared or not? I couldn't "practice" those obstacles in my back yard.
Lastly, because no one wants to embarrass themselves. I'm no America Ninja Warrior and I was quite certain there would be plenty of awesome athletes there watching me shake and stutter and God forbid fall or slip in the mud.
Having completed the race, I'd say I can't remember the last time I felt that kind of adrenaline rush and had that much fun doing something so physically demanding! I loved the fact that Desiree and I did it together (and with friends). I loved the fact that I was physically prepped and while the course was NOT overly demanding (there are far harder races than Rugged Maniac), there was only one obstacle I didn't succeed at and I know I could do it. I just slipped off the bars.
I'd also share that the intimidation factor of lots of other people and athletes wasn't there. There were people of all shapes and sizes, there to enjoy themselves, better themselves, not to be judged. In fact, the amount of encouragement and comradery that I felt was really surprising. It's as if everyone there was on the same team. The last obstacle was the warped wall. We waited in line for 15-20 minutes and everyone watches you attempt to run up the warped wall, grab the top and pull yourself over. A difficult thing for many. Not only did complete strangers reach their hands down to help pull someone over who couldn't reach the top, but those who failed their first attempt, sometimes falling pretty hard, were encouraged to try again. I admired their drive to get back up in front of everyone and not let the first failure discourage them or stop them for potentially feeling embarrassed a second time. I admired even more the rousing applause from everyone when they would make it the second time.
It felt like a team. It felt good to accomplish that. And it felt great to do it with friends and family. When's the next one?!
Tracking # T004365