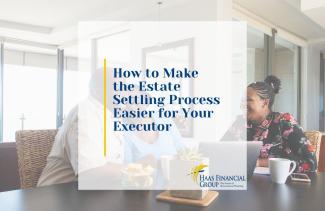 How to Make the Estate Settling Process Easier for Your Executor
When it comes to estate planning, there's very often a common theme among all our clients, regardless of who they will be leaving behind; they don't want to be a burden to anyone else. Family and friends are often what matter most to us in life. As we plan for our inevitable passing, we want to see money as a tool to help them live a fuller life, and not as something that complicates issues, create stress, or induces conflict with others. That's why it's so important to take the time to plan ahead because proper planning and communication can make things much easier for the executor of your estate.
As a quick refresher, here are the basics on what we mean by "estate planning" click here
And when we say "executor," that's the individual (or individuals) named in a will whose task is to "execute" the decedent's last wishes. It's essentially their job to pick up everything that is yours and move it to those you wish to have it, as outlined in your estate plan.
Whether you're planning your own estate, or know (suspect) you'll be in charge of executing the wishes of someone else, here are some suggested next steps to help the process go smoothly and hopefully keep harmony between all those involved.
Why it may be important to share with the people you listed in your estate documents:
As you're trying to thoughtfully think of who you'd like to name as executor in your estate document, consider talking with that person and see if they'd be willing and able to accept that role. It will give you an opportunity to reflect on why you think they would be the best fit and it also opens the door for them to ask you questions about what you'd like to see happen at the time of your passing. Talking about a heavy topic like this can be difficult but having the conversation will help get everyone on the same page and will help lessen the stress and headaches down the road for your loved ones.
Why having a "cheat sheet" of where all documents are located is helpful to your executor:
We often hear stories about how hard it was "to find things" when someone had to settle an estate. One of the ways to help leave your heirs better equipped to settle your estate is by putting together what we call the Final Financial Plan, which is essentially a document that has the details of where important documents are located within your home, where any investments or other accounts are located (think institutions), utility companies, mortgages or loans, and any websites and passwords that correspond with the things listed above. For people who enjoy technology, a good resource that can help organize important information into one spot is called EverPlans. These tools can give you some peace of mind knowing that you left resources that can serve as a guide for your executor.
The importance of having some cash or a non-retirement account going to your estate:
One of the main troubles we see an executor face when settling an estate is lack of liquidity, or easily accessible cash to pay ongoing bills throughout the process. A way to eliminate this added stress on your loved ones is leaving some liquid assets, such as a bank account, to go to your estate. This will help your executor have money to cover expenses and it allows them to thoughtfully dispose of your physical assets.
For the executors: Who should I reach out to when I need guidance with the estate process?
Try to lean on professionals, such as a lawyer who specializes in estate planning or an accountant that has experience filing final tax returns and estate tax returns. Reach out to us or other CFP®'s who can give some education on the estate process. Having people to help you throughout this process will take some of the weight off your shoulders while still being able to accomplish your role of executor. 
Why choose Everplans and how can Haas Financial Group help?  Click here to find out.
Tracking # T004457