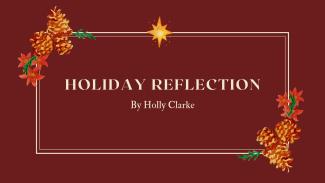 As we swiftly get closer to the upcoming holiday season, I always take some time to reflect on the current year. This year has been a lot of monumental moments: one year in our house, feeling professional growth at HFG, my mom is in remission from thyroid cancer, and getting married, just to name a few! We've been very blessed to be surrounded by wonderful moments throughout 2023 and to be a part of our friends and families' big moments too. I feel so young at times when my friends or I hit these huge milestones but being almost 27 isn't really that young after all.  
The rest of my year will be packed with lots of family and friend time (my favorite to close out the year), filled with pierogi making, 3 Thanksgiving meals, and lots of Christmas traditions like cutting down a tree and cookie making. It seems that each year gets a little faster than the last and I'm trying to be more cognizant that time is precious. I can't wait to see our nephews and niece help us make pierogies, I'm excited to have more Christmas decorations around our house this year, and I'm excited to spend Christmas Eve with my family and our longest family friends (a tradition since we were in elementary school but haven't been able to get us all together in at least the past 4 years).  
As you get into the holiday season, what are you most looking forward to? Are there any traditions that are absolute must-haves to make your holiday feel special? Reach out as I'd love to hear them! 
Investment Advice offered through Great Valley Advisor Group, a Registered Investment Advisor. Great Valley Advisor Group and Haas Financial Group are separate entities. This is not intended to be used as tax or legal advice. Please consult a tax or legal professional for specific information and advice. 
Tracking # T006553