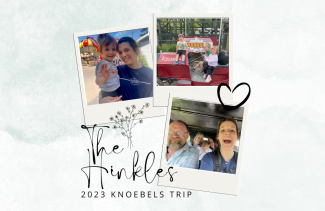 The Hinkle's 2023 Knoebels Trip
One of my favorite things as a kid was going to Knoebels Amusement Park at least once a year with my family. Even as an adult, I would jump at any opportunity to go there and enjoy some rides and get tasty food! So, this year's Mother's Day consisted of my parents, my sister, my niece Grace, and me piling in the car and driving the hour and a half to Knoebels. Grace was determined to not fall asleep on the way there since she was so excited at the thought of being able to go on rides and sadly succeeded (she's almost 3 so a nap would've been helpful come the end of the day).  
Once we were there, I was the lucky one to take Grace on the Kiddie Himalaya for the first ride of the day! I was able to coax her into briefly letting go of the bar and putting her hands in the air as she giggled as we went round and round. Grace was fearless going on the hot air balloon ride with my sister and my dad that went high up in the sky. We then met up with one of my future sister-in-law's, her husband, and their two boys Aiden (4 and a half) and Owen (almost 2) who were also spending the day at the park. Aiden and Grace loved going on all the kiddie rides together as all of us were cheering them on. We even got Owen on the Fire Trucks with them but once the ride started, he quickly burst into tears once he realized his mom wasn't on the ride with him.  
The last leg of our day consisted of a late but delicious lunch (my favorite was a strawberry milkshake for dessert), Grace experiencing the North Pole for the first time and LOVED it, driving the antique cars, and winding down with our tradition of going on the train for our last ride before leaving the park. It's a really cool experience being an adult and being able to help continue the family tradition of going there with the next generation. My highlight was seeing Grace and Aiden (and hopefully Owen next year!) loving Knoebels as much as I did as a kid 😊  
By: Holly Hinkle, Financial Planning Associate
Investment advice offered through Great Valley Advisor Group, a Registered Investment Advisor. Great Valley Advisor Group and Haas Financial Group are separate entities. This is not intended to be used as tax or legal advice. Please consult a tax or legal professional for specific information and advice. Tracking # T005769