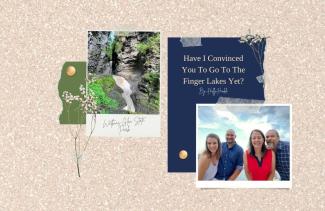 Have I Convinced You to Plan a Trip to the Finger Lakes Yet?!
This is the third time I've been up to the Finger Lakes region, staying once on Seneca and twice on Keuka. I'm nowhere near an expert there (yet), but every time I go there's places I want to go back to on the next trip. I figured I'd name my current Top 10 for anyone who's going there or maybe will want to plan a trip to that region after reading about these gems!
The Spotted Duck Creamery, Penn Yan- This is the place to go if you ever wanted to step outside picking your go-to ice cream flavor and try some homemade custard! Fun fact: the key ingredient to making custard is duck eggs. The little custard stand sits on the farm where the ducks are located so it's something a little unique and fun to see while you're eating your custard. We found this during our first trip in 2016 and my family makes sure to hit it every time we're in the area.
The Potter's Gallery, Penn Yan- I used to throw on the wheel in high school and always had an appreciation for pottery so I was thrilled to find this store since I try to get a handmade mug on vacation. There are about 20 artists whose ages range from early 20's-70's and all live within 2 hours from Penn Yan. If you want to support local artists and get beautiful pottery for your home, I highly recommend checking it out!
Amity Coffee Co., Penn Yan- Right up the street from the Potter's Gallery is this cute and chic coffee place! They have a limited breakfast food menu but as long as you aren't picky and have an appreciation for fancy lattes (or coffee in general), this is a MUST one morning for breakfast. It had a similar "vibe" of a breakfast place across the street from my apartment in York, PA which made my boyfriend and I like it even more.
Keuka Springs Vineyard, Penn Yan- This was the first winery we stopped at on this year's vacation and it didn't disappoint. Some wineries have pre-selected options for wine tastings and we were thrilled that we were able to pick whatever we wanted for the tasting. They have a great view of the lake and is very charming overall. Their wine was very well balanced with something there for all wine drinkers to enjoy.
Watkins Glen State Park, Watkins Glen- If you're looking to be submerged in nature and also in the mood for some hiking, this is the place for you! I've gone here on every trip and will most likely continue the tradition as it is really beautiful. There are lots of stairs to walk and can be a big tourist attraction so I highly recommend wearing sneakers and trying to arrive within the first hour of the state park opening. I promise you won't be disappointed!
El Rancho, Watkins Glen- There are plenty of great food places in Watkins Glen but this Mexican restaurant was amazing! If you leave hungry, you must've left your appetite at home as all of us were stuffed with delicious Mexican cuisine. For any tequila lovers who want a change from wine or beer, this place makes great margaritas with a ton of different flavors to choose from.
Bully Hill Vineyards, Hammondsport- I've been to this winery twice and the most notable part about it is that it also has a restaurant with outside seating that overlooks Keuka Lake. They have wine slushies, tasty food, and a good variety of sweet and dry wines. One of my favorites to use in a summer sangria is Sweet Walter Pineapple!
The Rusty Pig, Geneva- This is the place to go if you're a huge BBQ fan! The restaurant follows through with the name of the restaurant with its metal ceilings and rusty décor. It has an overall good atmosphere with dynamite food. It was tough to decide what to order as everything sounded yummy but be aware this is a food joint that fills up quickly so definitely try to get there shortly after opening so you don't have to be put on a waitlist.
Lake Drum Brewing Company, Geneva- This was a last minute, on-a-whim brewery we tried and we struck gold! First, we loved that the flights came in test beakers and the fact that you could mix-and-match beers or ciders. The brewery has board games, a record collection (which is also used for the music), and is a fun and unique hangout spot to try while visiting Geneva.
Corning Museum of Glass, Corning- First, if you don't find glass overly exciting, I highly suggest watching the Netflix series "Blown Away" as it shows how glass-making is amazing, challenging, and is truly an art that requires years of practice and a ton of skill. It's incredible what people can make out of glass and you will walk out with a new appreciation for it, especially once you get to watch a live hot glass demo there. Fun fact: my mom inherited a mixing bowl set from her mom and it's identical to the set that's showcased in the museum!
Please know that this list could be a lot longer as there's many, many worthy places to go to so if anyone would like to have some more ideas than what I listed, please reach out! Lastly, I didn't get paid to promote any of these places so know they're truly everything I'm talking them up to be ;)
By Holly Hinkle, Financial Planning Assistant
Tracking # 1-05172027