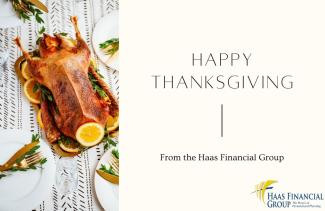 Happy Thanksgiving From The Haas Financial Group
Each year feels like it goes by faster than the last and this year was no exception. I'm thankful for my health, spending time with friends that was long overdue, my work family that guides me and keeps me striving to be the best I possibly can be in my profession, and last but certainly not least, a loving and supportive family. I'm grateful that the holidays will feel normal this year and most importantly, I'm excited for the filling! My dad cooks the entire holiday meal with the exception of that (it's my mom's specialty) and if I do say so myself, it always tastes better than stuffing. In case anyone is wondering, there is a difference between stuffing (cooked in the turkey) and filling (cooked in a casserole or separate dish)! I hope everyone has a happy, healthy, and hopefully normal Thanksgiving that's filled with lots of smiles, laughs, and too much food!
By: Holly Hinkle
Thanksgiving is probably one of my favorite holidays.  I like that it's always on a Thursday, so planning is easy.  Plus, you have three full days to recover at home, relax, or go crazy and try and work off all the extra food you ate.  The weather is generally cool and it usually doesn't snow, so traveling isn't a problem.  I always look forward to the food, overeating, and drinking champagne. My mom pretty much makes all the food and we are only responsible for drinks, a side, and dessert.  (I'll second Holly - the filling is the best part, especially when you get a scoop of the crusty top).  This year I have a bottle of cranberry wine from our Virginia wine country trip to celebrate with as well.
I also like that Thanksgiving kicks off the holiday season and that you still have Christmas and New Years ahead of you.  Weather permitting, Friday is reserved for cutting down and decorating the tree, the house, and watching the pure joy on my kids' faces knowing that Christmas is soon approaching.  It is surely a time to reflect and enjoy family and friends' company!
By: Devon Volker
Thanksgiving is a special time for my family. Desiree's parents and sister live close to each other in Virginia/West Virginia, so traveling to spend the holiday with them is our tradition. It's a couple days together with family we don't see as often, centered around an awesomely fattening meal of course and always some football watching on the couch. After the first year we traveled, I have since made the turkey my responsibility (love you, Carolyn). It's a 72 hour special brine that I've adapted over the years, a slow cook, and a special basting process at the end that includes as awesome blend of herbs and butter. Muah! We take the ham too from our annual butchering and the girls all work together on the sides. There's always enough turkey leftover to boil down the remnants and make turkey chili when I get back home too. The 4 hour car ride includes a lot of Christmas music. Who am I kidding, Desiree started listening to Christmas music the second the Halloween decorations came down! Finally, the Saturday after is always our time to go pick out our Christmas tree which really kicks off the holiday season in the Haas House. It truly is the most wonderful time of the year.
By: Benjamin Haas
While Halloween is a big holiday in my house, Thanksgiving kicks off the official countdown towards Christmas and New Year's. Christmas music isn't allowed in the house until the day after Thanksgiving when we start putting up our trees! And yes, you read that correctly, trees, plural. As much as my wife loves Halloween, her affinity for Christmas trees may be unmatched. We usually have 5-10 trees of various sizes throughout the house (each child gets their own tree for Christmas morning). I'm not sure exactly when the changeover occurred, but sometime in the last 10 years we started hosting Thanksgiving dinner at our house for any family and friends that wanted to join us. Before that it was the typical, load up the kids in the car and jump from house to house to make sure we hit both sides of our families. Last year was the first year in a long time that we didn't have any visitors thanks to COVID and while there was way less stress in cleaning up the house and prepping a large meal for company, we definitely missed out on spending that time with those we care about. Our tables are filled with much of the standard fare: turkey, mashed potatoes, potato filling (like Holly and Devon, this has always been my favorite part of Thanksgiving!), corn, green bean casserole and more desserts than anyone could or should eat. And of course, maybe the best part is the leftover turkey sandwich later that evening. Mmmmm, I can already taste it!
By: Adam Werner
Tracking # 1-05214802