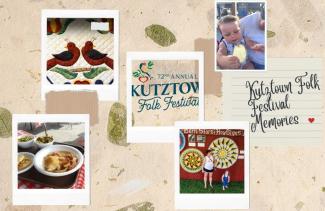 Growing Up With The Kutztown Folk Festival
Growing up in Kutztown, the folk festival was something I attended throughout the different phases of my life. As a younger kid, I remember going and seeing friends and family working/volunteering there. It's just what you did. My sister and my cousin would help reenact an Amish wedding. My uncle would help at the Optimist Club stand. I then followed suit as my first "job" was making funnel cakes in incredibly hot oil at 13 years old (I'm pretty sure OSHA would have a lot to say about that these days). In fact, working at the festival led me to my first "real job" since I then got hired by the owner of the Auntie Anne's pretzel stand across the lane (who also owned the Scoop in the Weis Plaza, so I got good at scooping ice cream too). Many of my friends worked at the festival at a young age so it was a fun way to spend a week in the summer months and connect with friends because we didn't have online video games, social media and cell phones back then!
As an adult, I came to appreciate the culture and the craftsmanship at the festival, buying things for around the house and learning about different trades and simpler times. I also became an active member of the Optimist Club, and while the day job didn't allow me to help sell burgers and BBQ sandwiches, I would regularly volunteer to do the overnight security. While not time spent absorbing the festival activities, that time on security allowed me to spend many hours with other Optimist Club members, getting to know each other and in some cases really connecting.  Looking back, I really appreciate that now.
So, while many people have many different memories of the Folk Festival, my reflection is really how a community event like that helped me understand my heritage, how it connected me to work and jobs as a teenager and instilled a work ethic, and how it connected me to friends I otherwise may not have made if not for volunteering my time.
By Benjamin Haas
For those of you not familiar with the Kutztown Folk Festival, it claims to be America's Oldest Folklife Festival.  For as long as I can remember, I would attend the festival every year.  It is normally held in early July during undoubtedly the hottest week of the year. Unfortunately, it was cancelled the past 2 years due to COVID, but Kutztown is holding a mini-version the week of October 13th.
Over the years, I had different reasons for wanting to attend the festival.  When I was younger, my grandparents would spoil me with buying lots of handmade, unique marbles.  I gathered a pretty big collection over a 2-3 year span.  It has since been passed down to my kids and has quickly become a favorite toy of theirs. They use them to make marble runs and admire the colors and craftsmanship. Unfortunately, I don't think that vendor attends the Kutztown Folk Festival anymore.
As I got older my tastes turned towards home decorating, celebrating milestones or holidays, and practical gifts.  Scherenschnitte (paper cutting) art is, probably my favorite. In addition to Scherenschnitte, I have a few hex signs on display at my house too (as any good Dutchie would!).  I've collected some fabulous handmade porcelain ornaments marking Baby's First Christmas. And a Belsnickel, that stays up year-round. The handmade brooms are very sturdy for cleaning my porch and patio.  These are just a few of my favorites, but there is so much good stuff there it's hard to choose!
I can't leave out the food. The Folk Festival coined the phrase "Eat Until You Ouch". During the week of the Folk Festival the whole town smells delicious.  My go to meal is a hot dog, Dutch fries, and homemade ice cream.  We normally enjoy this gourmet meal while listening to a reenactment or watching the Miller Family Dancers, which is a must see.
My favorite memory was probably in 2018 when one night we went to the Folk Festival as a family of 3, and later in the week went back as a family of 4!  Let's just say that I was ready to meet my son, August, at that point!
So, if you haven't been to the Folk Festival yet, you should definitely check it out.  Here is the link for this year's festival: https://www.kutztownfestival.com/.  Haas Financial Group is happy to be able to support this event, which is important to our community and heritage.  And I personally can't wait to attend it again this year!
By Devon Volker
Tracking # 1-05192829