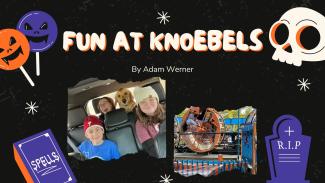 Each October, Knoebels Amusement Park decorates for their Hallo-Fun weekends with all sorts of skeletons, witches, spiderwebs, lights, and more. I've been going to Knoebels since I was little, and it's such a fun change of pace from the typical amusement parks. When my daughters were younger, we would try to go every year, but it's been a little while since we've made the trek to Elysburg. Like many people, we've been waiting for a nice weekend (or at least one without rain!) to engage in some fall activities, but we weren't sure if we were going to miss yet another year to visit Knoebels. Thankfully, we had a beautiful fall Sunday recently that we were happy to take advantage of. 
I'm not sure if my kids were more excited about going on the rides or eating their way throughout the park. Luckily, they were able to experience enough of both. Amy's been craving a funnel cake for a long time, and it was just as delicious as we wanted it to be! 
But I now feel like I've officially entered "old dad" territory since this may have been the first time I didn't join them on a single ride. I heard years ago that as we age, something in our ears gets thinner and makes us more susceptible to spinning and flipping motions, and I certainly feel like that's the case for me. It's still fun to ride a rollercoaster from time to time, but I was struck watching the kids on rides that just kept spinning in circles or flipping them upside down over and over again. In my younger days, I would have said, "that was awesome, let's go again," and now I say, "that looks awful, why would I want to feel sick for the rest of the day? But you go have fun," haha. 
Further solidifying my "old dad" feeling was on our drive to and from the park. Driving up and down the mountains, getting to admire and appreciate the picturesque fall foliage and scenery, was just as satisfying to me. Thankfully, everyone had a good time, and we're looking forward to finding a nice day next fall when we can experience the Hallo-Fun setup when it's dark and the park and rides are all lit up! 
Investment advice offered through Great Valley Advisor Group, a Registered Investment Advisor. Great Valley Advisor Group and Haas Financial Group are separate entities. This is not intended to be used as tax or legal advice. Please consult a tax or legal professional for specific information and advice. 
Tracking # T006527