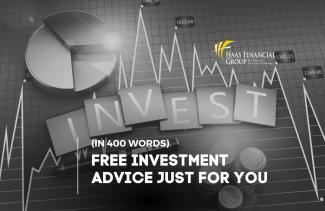 Free Investment Advice Just For You (In 400 Words)
Investment advice is so commoditized these days that it's almost like white noise. You can get it almost anywhere, and in many cases, you don't even have to pay for it(!) Much to the dismay of traditional brokerage houses and traditional financial advisors. We offer advice too but happen to have strong opinions on what "investment advice" should actually look like, especially for those close to, or in retirement.
Here's our advice – free for the taking. And we suggest you go through this checklist BEFORE the markets get rocky again.
Take stock of your cash (pun intended). Isn't riding out the market downturns (like we just had at the end of 2018) so much easier when you know you don't NEED to rely on your investments to pay bills? Figure out what you need from your savings every month, and then "invest" 1-2 years of that need in cash. Hopefully having that cash will reduce your worry during the next market drawdown, which historically lasts 18 months.
Use our Riskalyze tool. The appropriate portfolio for any investor should be the byproduct of two key conversations; what's your timeline (i.e. how much cash should you have…see above) and how do you feel about risk. Don't get caught in a portfolio that exposes you to short-term losses you aren't comfortable experiencing. Yes, risk is able to be quantified. See for yourself, it's free: Click here to find out if your portfolio fits you.
Don't watch the headlines. We are emotional beings and our willingness and ability to navigate uncertainty and risk of loss can dramatically affect our investment experience. So, do yourself the favor and turn off the news. It's meant to solicit an emotional response! The US stock market moved more than 1% 64 times last year. That's 64 opportunities to get too high or too low with your emotions. Unless you appreciate headlines as entertainment, our advice is turn it off!
Spread things out and be disciplined. We believe in diversification and creating exposure to different types of asset classes because of how it might help reduce volatility over time. We also believe that there is no consistent method for determining when markets will decline or advance; we as humans are irrational at times and economies are really complex systems that contain many factors. That makes it difficult, if not impossible (in our opinion) to predetermine when to specifically buy or sell any one investment with any degree of precision. So spread things out and stay the course.
Have a financial plan. The best investment advice we can give is to put investment advice in its place; it's one piece of a much bigger plan that actually addresses the stuff that really matters to you. Like, how are you going to prioritize your goals and allocate your precious resources? How are you going to move forward from a layoff, divorce, or god forbid a premature death? What legacy will you leave behind? How are you going to become the best version of you?
You'll notice none of this investment advice has anything to do with what stock to buy or which fund company is the best. Every financial advisor has those ideas on how to invest your money for you. But as comprehensive financial planners, we know the importance of understanding your full financial picture before suggesting how to invest. That's what really matters. That's our advice… in 400 words (410 to be exact, but who's counting?).
Tracking # 1-848656