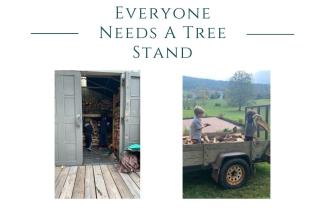 Everyone Needs A Tree Stand
Let me start by saying that of all the outdoorsy, country living, salt of the earth things I do and love, I've never hunted. It's not that I wouldn't. I just haven't. I'm actually a decent shot and those that know me best know that I have absolutely made perfecting "artisan meats" a hobby of mine. So, it would be pretty natural to butcher and process my own shot at some point. But hunting, I haven't done it.
I thought about this recently. I was with my uncle in the woods carving up trees that had fallen close to his tree stand and then splitting them into firewood. Between my house stove, my garage stove, my smoker, and the fire pit out back, we sure do go through wood! Being out in the woods reminded me of something he shared with me many, many years ago. He said, "Everyone needs a tree stand."
I knew exactly what he meant at the time. And to a certain extent, it really has nothing to do with hunting. But those that hunt will know best what he meant. Everyone needs that place, that quiet space they can go and just…sit. A tree stand is a place of stillness, of peace. There's no sense of time, there's no cell phones, there's no hustle and bustle, no car horns or loud voices. A tree stand placed perfectly in the center of God's earth, on a brisk morning as the sun rises over the horizon is as serene as it probably sounds. And everyone needs that space and time to decompress, maybe to do a little reflecting or thinking, but to also just...sit, still.
I've personally found that nature has a healing affect. Fresh air and sunshine are good for the body and soul. It's why some people cycle or run. It's why some people hike. It's why some people hunt. That's their tree stand. What's yours?
As we move into Fall weather and before the hustle and bustle of the holidays hit you, I hope you find your tree stand, that place that allows you to quietly reflect on the things that matter most to you. I hope you make time for that place that helps you hit a little reset button if you need it. For me splitting wood, sitting by the fireplace, or even just lighting up the wood stove in the garage while alone building a charcuterie board – it all qualifies as my tree stand and I'm happy to make that time for myself to just sit and reflect.
I won't be running out of firewood anytime soon and am thankful to have had some little helpers to stack next year's wood already (you have to let it dry!) But I'll be excited to get back out into the woods again soon. Everyone needs a tree stand.
Tracking # 1-05203363