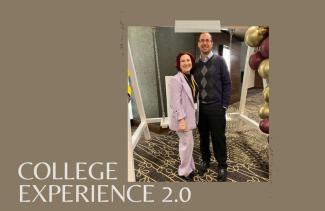 I didn't have what you would call the traditional college experience. A couple years in, I was married, and Amy and I had our first daughter, Ava, all while I was attending Penn State Berks full-time and working full-time. But now I get to experience college in a much different way. Ava has been accepted into her school of choice, Alvernia University, where she'll be starting as a Communications major this August.
We've been sorting through all the admissions paperwork, FAFSA forms, campus visits, Accepted Student Days and more for the last few of months and I have a newfound respect for parents of college kids!
Ava's always been focused on her academics, has had great grades, and has put in a lot of effort to get to this point. I'm not sure which part of Alvernia caught her eye the most but so far I've been nothing short of impressed. Not only has she been accepted into their Honors program, but Ava will also be joining the O'Pake Institute Fellows Program where, with the guidance and support of Alvernia's faculty, she'll have the ability to work directly with local entrepreneurs, small business owners, faculty researchers and industry leaders. This hands-on experiential learning is one of the focuses for Alvernia as a whole and takes the curriculum beyond the theoretical learning and into some real-world experiences.
Alvernia is also somewhat unique in their focus and commitment to their core values of service, humility, peacemaking, contemplation, and collegiality. While attending a recent scholarship luncheon (yay, free money, good job Ava!), I was pleasantly surprised to hear the president of the university talk about their focus on instilling the value of finding common ground with others was a breath of fresh air in our polarizing world. And to be able to have discussions with your peers with the intent to understand and appreciate their point of view, knowing that you won't always agree with their values or their opinions but to be able to have a respectful conversation where you may learn that you may agree on more things than you disagree on. That certainly seems to be lacking in our society lately.
One other interesting thing I've learned is that bingo is/has made a huge comeback on many college campuses and it's a BIG thing at Alvernia. They even had a virtual bingo event a few weeks ago for some of the incoming freshman class and Ava would have won the grand prize of the day, a MacBook Pro, but she was just a split second too slow in calling (typing) out BINGO!
It hasn't fully sunk in yet, but I know it'll be bittersweet when she goes off to school at the end of Summer. She'll still be living at home and commuting to school during the day, but I know we'll see her less than we already do (teenagers, am I right!?). I'm proud of the way she's embraced the experience so far and I'm excited to see her spread her wings a little bit and explore what the world has to offer and what she has to offer the world. To steal my wife's words of encouragement, "go be awesome!"
Tracking # T005543