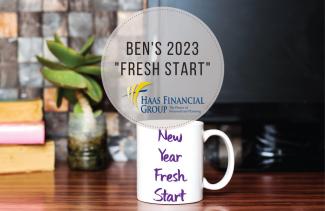 As Devon wrote in the most recent edition of "The Independent," [check out our quarterly publication if you haven't already], the turning of the calendar into a New Year offers all of us a natural marker to review our lives, reflect, and set new goals for the coming year. Some call it "the fresh start effect" which states that people are better at tackling goals and making positive changes when they psychologically feel a page has turned – birthdays, New Years, new seasons, new life events, the first of each month - these are all good excuses to push ourselves to change. I hope you've taken the time to reflect, refresh and start anew with an added focus on what really matters most to you for 2023!
As I think about my plans for 2023, I want to share what's important to me! First, I will be emphasizing some different responsibilities within the Haas Financial Group team this year by focusing even more on the more macro parts of the business. What we do, how we do it, and most importantly WHY we do it, are so important to me that I continue to think about the best ways to serve you all. We remain committed to helping more families in our community and that requires me to continue to build our team, our processes and our tools in order to better serve you and support new relationships. Whatever that takes, I want to stay ahead of that curve!
The last couple years have been challenging in many ways. Yet one good thing that Covid-19 presented us with was the opportunity to define and refine our processes and workflows, clarify our roles and responsibilities within the team and reevaluate how we could BETTER SERVE YOU by personalizing your planning experience. We have an amazing team who loves to come to work every day, inspired to make a difference in your lives! It's because of this team that I can shift my focus to working ON the business more frequently, instead of just IN the business. Yes, we are financial planners. But what we have found is that it's just as important for us to try to help provide the right perspective to what can feel like chaos going on around us. It's our hope that we are truly helping you find balance in your life, by putting focus on what really matters most to you so that we can build systems and processes to support THAT. Is it new technology? Different meeting structure? More educational content? More communication? Less? Different ways of sharing advice or tracking advice? The world evolves quickly and we want to make sure that we are on the cutting edge in order to best support you. 
I'll also share that life flashes before your eyes sometimes too. I've felt the weight of being the father of three growing boys, having a strong commitment to our church, our schools, youth sports and a deep interest in supporting and building this community. I sometimes have trouble keeping up! I don't want to miss out on the opportunities to practice what I preach; slowing down to lead a meaningful and fulfilling life - right now. 
So what does this all mean to you?
Although I still plan to be an active participant in your planning process and experience, you may not see me in as many meetings. 
It means you may find yourself interacting more with my amazing team. They will bring their own wisdom, perspective, and empathetic nature to our collaborative team process. 
It means when you call with an update or challenge that you need to share, that I may not be the one on the other line and that you may receive updates, or requests for information/feedback from others. 
It means when you stop in, I might be out. I might be the last person out there who hasn't embraced the work from home approach, but I'm going to try. I am also committed to attending more conferences this year and I will be interacting with other industry experts more frequently.
Here's what will not change
Our strict financial planning and investment processes, centered on aligning your values, vision and wealth
Our dedication to 6 core values; personalized & comprehensive planning, partnership, independence, education and proactive communication 
Our educational content and community focus
Our commitment to implementation of advice, not just drafting of plans
I'm excited for the year ahead! The "fresh start" will be an opportunity for me to show you what an amazing team I have, to practice what I preach, and to make sure that I leverage my skillset so that it best serves you, your families, and our community.  Desiree jokes that maybe I'll figure out how to balance it all and finally embrace a more normal 40 hour work week. Only time will tell :-)
Investment advice offered through Great Valley Advisor Group, a Registered Investment Advisor. Great Valley Advisor Group and Haas Financial Group are separate entities. This is not intended to be used as tax or legal advice. Please consult a tax or legal professional for specific information and advice.
Tracking # T005175