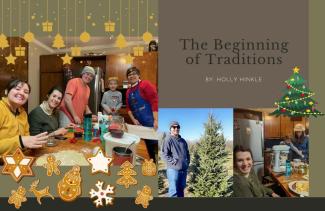 The Beginning of Traditions
This is the first set of holidays that "home" is somewhere other than where my parents reside. With a new home comes the idea of creating new traditions. We haven't been given the opportunity to host one of the holidays yet, but there's been talk of what will be passed on to us and some new traditions that we'll begin. 
The most exciting tradition we'll get to start is picking out a Christmas tree for our house. Our parents usually have gotten the final say on which one comes home so it'll be interesting to see which one of us scouts out the perfect tree to put presents underneath! I prefer tall and skinny trees but Michael likes fat trees so TBD on who will win getting their tree preference this year or if we can compromise finding one in the middle. The key is that we'll have to pick a really nice one as the tree will be a little sparse from lack of ornaments this year.
A tradition my mom has been talking about passing onto us is the annual Christmas cookie making. Her cookies are something that many friends and family look forward to each year as she makes over a dozen different kinds of cookies. A few of my favorite are kiffles, nut Tossies, and meringues which we call "meltaways." I'll have big shoes to fill when she hands that tradition off but it's one that I'm excited for, especially because I know she'll come and help 😊 
As for new traditions, we hope to establish an annual perogies making day beginning in 2023! We've been talking about it for a while and both of our families are on board so we just need to set a date. If there's one thing we know about making homemade perogies, the more help, the better! The best part to me will be having everyone together and I'll make sure to give an update once we've officially done it. 
Any event can become a tradition which makes it so special. We're always looking for more ideas to get our families together so feel free to reach out with your traditions as I'd love to hear them!
Tracking # T004781