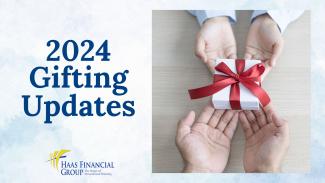 A new year means inflation adjusted gifting limits! Although it may feel like small changes, we wanted to highlight this because we know gifting is important to many clients and want to know how it could impact their financial plan. 
2024 annual gift tax exclusion: $18k/person (up from $17k/person in 2023) 
Your spouse can also gift $18k to the same person which means you could gift $36k/person without having to file a gift tax return! 
2024 lifetime gift tax limit: $13.61 million (up from $12.92 million in 2023) 
Once again, this amount is doubled if you're married and this amount is the same for the annual estate tax exemption 
This annual lifetime gift tax limit is set to expire at the end of 2025 along with the 2017 Tax Cuts & Jobs Act and the estimated amount is expected to be cut in half (~$6.8 million). Congress could choose to permanently adopt the current amount before the expiration date but there's no current indication that will happen. 
If you'd like to discuss what this means to you and your financial goals, feel free to reach out as we'd be happy to go through this! 
Source: 
https://www.nerdwallet.com/article/taxes/gift-tax-rate  
Investment advice offered through Great Valley Advisor Group, a Registered Investment Advisor. Great Valley Advisor Group and Haas Financial Group are separate entities. This is not intended to be used as tax or legal advice. Please consult a tax or legal professional for specific information and advice. 
Tracking # T006598