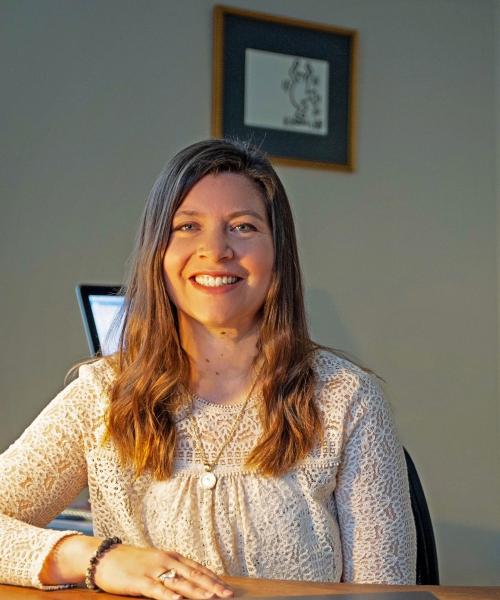 Devon Volker
Business Development and Operations Manager
I provide the structured approach that allows us to effectively communicate to those that are working with us and those seeking to get to know us better. 
I am passionate about doing meaningful work. Money is personal and I fully understand the importance of building trust when seeking help from us.  I take pride in providing a level of uncompromising integrity as we help people make decisions about their money and their life. I use my background in supply chain management to collaborate with our small team and bring a fresh and personalized approach to financial planning.  I find joy in driving processes through creativity, while being consistent in our final deliverable commitments to help the community we support.  I strongly believe in education as one of our core values and strive to provide learning opportunities through Haas Financial Group's marketing and events.
I believe it is important to give back and Haas Financial Group aligns with my commitment and connection to community in many ways.  I reside in Kutztown with my husband, Matthew, and two young children, Mavis and August. Outside of the office, I enjoy spending as much time as possible with my family. We also dedicate much of our free time to youth sports activities in Kutztown.  In addition to volunteering, we love to travel, be outdoors, and get together with friends. I am also a devoted Philadelphia 76ers fan and have learned to 'Trust the Process" (maybe?). I consider myself a "foodie" and in the summer you can find me at the local festivals.
Prior to joining Haas Financial Group, I held management positions in international logistics in the manufacturing and pharmaceutical industries.  I was proud to graduate from Robert Morris with an MBA while continuing to working full-time.  I also hold a BSBA from Duquesne University with a focus in Supply Chain Management. 
 

How do you define enough?

It takes self-awareness and re-evaluation.  Sometimes you can fall into the trap of wanting what those around you have. I try to focus on being thankful for what I do have. I don't have to worry about where my next meal will come from or how I am going to pay a utility bill.  I can spend mornings, nights, and weekends with my children. And lately I've focused on sustainability and base most of my purchasing decisions on quality, need, and waste.  I keep my long-term goals front of mind and consider the tradeoffs of major decisions.   

 

How do you use habits to tackle broader goals?

Good or bad, sometimes I just need to jump right in. I've learned over the years with both work and personal ambitions that if you don't give something a try, how do you know if you like it, if you can do it, or if it works? I'm not talking about taking unnecessary or unhealthy risks but pushing yourself a little bit out of your comfort zone until it becomes a habit. Sometimes I surprised myself by doing this. And then once that new habit feels natural, I re-evaluate and maybe it's time to push a little further or shift focus to something else that I feel needs my attention. This happens over and over, slowly, but then suddenly, I'm there at my end goal!

 

A great quote to live by:

"If the problem can be solved why worry? If the problem cannot be solved worrying will do you no good." -Shantideva; c. 8th century, A.D.