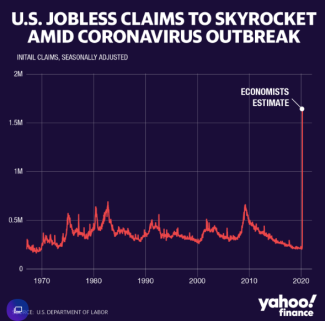 What We Are Reading Today - March 25th
The market seems to be responding very positively to the fiscal and monetary policy news we got this week from the Federal Reserve and in the form of a massive stimulus bill out of Washington. While this has given us a sigh of relief from watching prices go lower and lower these last few weeks, we still think the most important data to watch before rebalancing portfolios will be the "flattening" of the COVID-19 cases curve. The US is only ~25,000 cases below China's total cases. If/when we cross that threshold, a stand-alone headline sometime later this week or early next week could be jarring to read. KEY POINT: We are cautiously optimistic about this recent two-day market rally. But to think we go straight up from here feels very naïve in light of other data and news that will still show the reality of the COVID-19 impact on our society and economy.  
Jobless claims will be reported tomorrow for the first time since many stay-at-home orders were given. Data matters and surely the realization (in numbers) of the lay-offs could also be jarring for people and the markets. LPL says this: (We will have much more visibility into the severity of a US recession on Thursday with the release of weekly jobless claims, which almost certainly will top 1 million for the first time ever and may approach 2 million. That would leave only one piece of our Road to Recovery Playbook left to check off: Confidence in the timing of a peak in new COVID-19 cases. This piece remains incredibly uncertain, but the experiences in other countries such as China and South Korea point to early-to-mid April. KEY POINT: (See above) We want to be patient and thoughtful with any action we plan to take.  https://finance.yahoo.com/news/coronavirus-weekly-initial-unemployment-claims-march-21-153036254.html
As the broad US market rebounds ~10% and ~1% the past two days, note that this is just the FIRST time we've seen back to back positive days during the last 28 trading sessions, tying the longest streak since World War II. And while stock prices increased, the perceived future volatility of the market (the CBOE Volatility Index or "VIX" measures the implied 30-day volatility of the S&P 500 based on options contracts) has not retreated much over the past 2 days. KEY POINT: Again this simply suggests that volatility is expected to continue so keep your focus on the long-term, not the short-term.