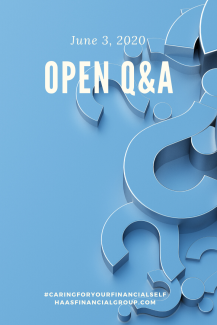 Open Q&A Highlights - June 3
Open Q&A June 3, 2020
Listen to the discussion here
Transcript highlights below:
Intro (0:00 – 0:30)
(0:30) Opening it up for discussion
(1:15 – 5:30) The market is very disconnected from the world that we live in right now.
Surprising that market shrugged off everything going on in the world right now

Part of massive drawdown in March was reversed through April and May regardless of very bad economic news.

"In the short-term, the market is a voting booth. In the long-term it's a weighing station."

Historical context - parallels to 1968

Influenza claimed 100,000 US lives

Riots in the streets and college campuses

Civil Rights movement was in focus (MLK was shot)

Black Power at Olympics

Space program

Political unrest in election year (Johnson said he wouldn't run again – RFK was shot and killed on 6/5) Nixon wins

Vietnam tensions (vs. China)

Yet, stock market was up 12.5% in 1968.

Was a different time with the media, but assume daily headlines weren't good then either but market moves along, and we stick to the plan
(5:30 – 7:30) China - US Tensions. What role will they play?
We dealt with a certain degree of market volatility in 2018 and again in parts of 2019 (seems so distant now) because of trade wars and trade deals and market did react

It is an election year. But he can't afford an all-out war to further risks economic hurdles.

Hong Kong territory doesn't exactly export a lot of goods to the US, so what's the real economic impact? Very little.

I'm not going to speculate to what degree comments and issues are political posturing vs. strong lines. Time will tell
(7:30) Clarification on HFG events for next week & office reopening
Chamber presentation on Business Continuity Planning on Monday, June 8 at 9am

Open office hours will continue on Wednesday, June 10 at noon

Open to everyone in addition to regular communications

Ben is in the actual office, but we have embraced technology before closure and have been working from home seamlessly.

Will be in the office should face-to-face interactions need to occur.
(12:00) End
Tracking # 1-05018338