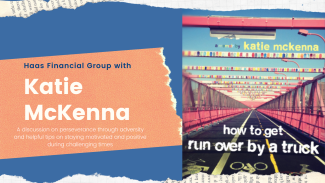 Discussion with Katie McKenna
Katie was literally run over by an 18-wheel truck, which is not something anyone is supposed to survive, of course, she did. It took 10 hours of emergency surgery, many operations and then she woke to a body and life that would forever be changed. The physical trauma, the mental trauma is all told in her best-selling memoir, How to Get Run Over by a Truck.
Katie now travels the country, speaking on how to overcome what feel like huge obstacles with "resilience, hope, humor and gratitude." She's a life coach, professional speaker and is soon to be made famous by Ellen DeGeneres and Warner Brothers who are teaming up to develop a 1 hour drama based on Katie's story. So, who knows – you may all look back on today and say, I MET KATIE, when she's famous?
I'm really excited that Katie was generous with her time to be with us. So thank you Katie.
Tracking # 1-05016635