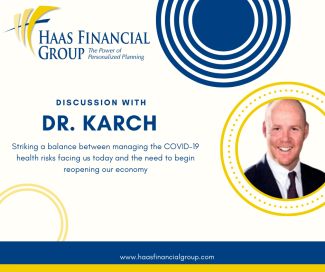 Discussion with Dr. Karch
Dr. Michael Karch, MD, Kutztown Area High School Class of 1987, is an orthopedic surgeon, entrepreneur, inventor and educator. He specialized in orthopedic trauma and adult reconstruction of the hip and knee. Karch was one of the first physicians on site at Ground Zero on September 11, 2001 and has led Forward Surgical Teams to many International disaster and conflict zones since that time. He has also been a Team Physician for the United States Ski and Snowboard Team since 2002 covering the Nordic Combined and Ski Jumping World Cup Competitions in Europe, Asia and North America and has served as personal physician to numerous Olympic athletes. He is currently in practice at the Mammoth Mountain Ski Resort in Mammoth Lakes, CA.
HFG sits down with guest speaker, Dr. Karch, to discuss striking a balance between managing the COVID-19 health risks facing us today and the need to begin reopening our economy.
Tracking # 1-05013796